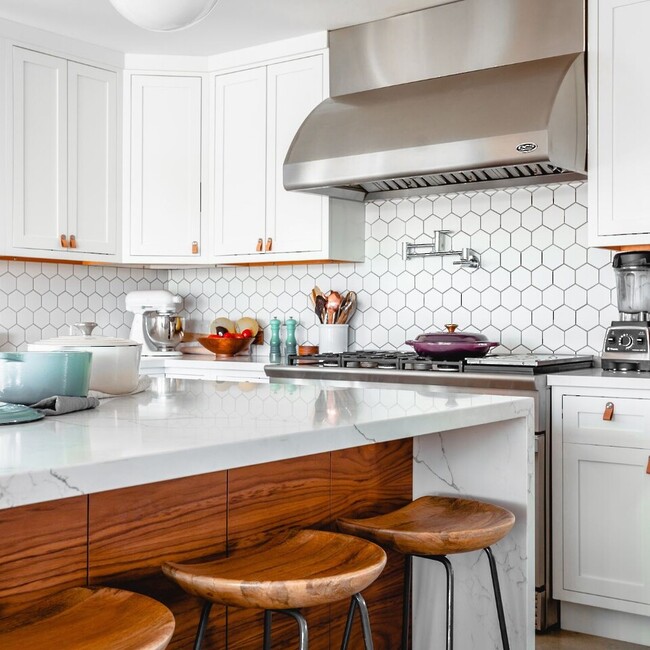 It is no secret that the kitchen area is one of the most frequently remodelled spaces in a house. From minimalistic monochromatic designs to using bold colour schemes, there are a million different ways to redesign your kitchen. Although, effectively incorporating only a few design elements and features is enough to give your modern kitchen a much-needed facelift. Apart from revamping the space aesthetically, you can also boost the resale value of your property with these features.
Here are 3 such kitchen renovation ideas.
Embrace Traditionalism With An Attached Dine-In Space
With an increased emphasis on spaces that promote family bonding, spacious kitchens with an attached dine-in area are in vogue. Following this trend, add some breeziness to your kitchen space by going for a chic dine-in kitchen island setup. Accentuate the island with an eye-catching, statement light fixture to create a sophisticated and contemporary vibe. An island is better suited than a peninsula here as you can easily move between the cooking and dining areas.
Add A Dash Of Sleek With Quartz
A regular feature in luxury households, quartz countertops are now a popular addition across most contemporary kitchens. Stain-resistant and non-porous, the sleek quartz counters are known for their excellent finish and extreme durability. Applying a light colour scheme will complement other elements of your kitchen, creating an illusion of a bigger space. Conversely, you can go for a bolder hue and apply accented colours on the cabinets and cornices to draw more attention to the lustrous countertop. With unmatched quality and versatile finishing, quartz counters are ideal for creating an elegant yet functional vibe.
Balance Aesthetics With Utility
Investing in high-end appliances and utility features can perfectly complement an open plan kitchen with quartz countertops. For example, you can add more functionality to your cooking space by opting for additional cutouts on the kitchen island to install a farmhouse sink. Add to the sleekness by installing multiple integrated appliances such as dishwashers and refrigerators. Complete this practical utopia with a dual fuel range featuring a gas cooktop and an electric heat oven. Another aspect of a contemporary dream kitchen is a large pantry, preferably a walk-in, whose layout will depend on the floor plan of your kitchen. If there are spatial constraints, you can opt for alternatives, such as a batwing pantry with mirror French doors and bottom-mount drawers to create a more streamlined look.
To install the best features for your kitchen or to create an elegant layout that is customized to your floor plan, call the experts at NIMA Kitchen and Bath today, who can help you design the kitchen of your dreams.