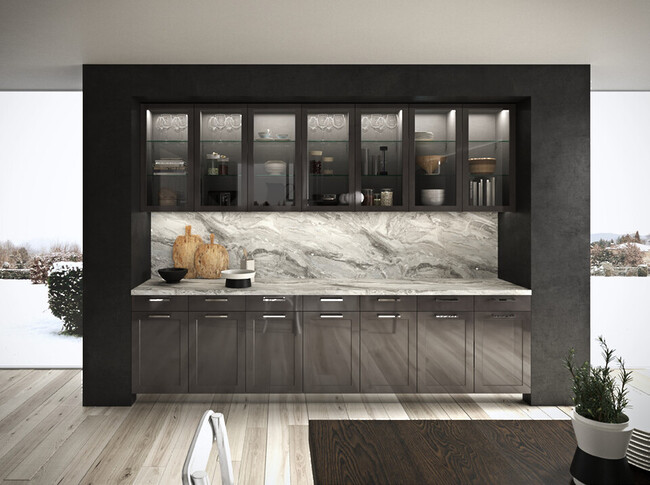 Storage is an important factor to consider when it comes to custom kitchen design. However, it's more important to many homeowners to keep the visual aesthetics of their kitchen free of clutter and mess. Although basic storage solutions are easy to implement, there are many unique methods of storing your everyday items in both hidden and visually pleasing ways.
Here are a 3 unique kitchen storage ideas you might want to consider:
Glass-Front Cabinets
Whether it's clear or frosted, glass front cabinets can be a modern and refreshing look compared to closed front cabinets. You can also opt for added lights in the cabinets and double the storage as a display case if the glass is clear. If you have antiques, special serving pieces or other sentimental items, a glass front storage would be a unique accent element for any kitchen. If you don't want to show everything in the cabinets, frosted glass with cabinet lights would be perfect for ambient lighting while also providing ample storage space.
Hanging Utensil Rack
Instead of placing your cooking utensils in a drawer or a separate container on the counter, having a magnetic or hanging utensil rack can help keep all your items organized while also making them easy to access. You will no longer have to dig through cluttered drawers to find that spatula or stirring spoon you need. A utensil rack is a unique and great way of extending your kitchen storage capability.
Pullout Waste and Recycling Cabinets
When it comes to someone's dream kitchen, they don't typically envision a large and bulky trash can to be the center of attention. Trash cans can take up a lot of walking space and are a sight for sore eyes. Consult with your custom kitchen designers to see if they can incorporate pullout cabinets for your bins. This will make your kitchen more organized and functional by allowing you to tuck the mess away but still have easy access.
With over 40 years of experience designing full contemporary and traditional kitchens, NIMA Kitchen & Bath can help you with your customized storage solutions. Contact us today to learn more about custom kitchen design.