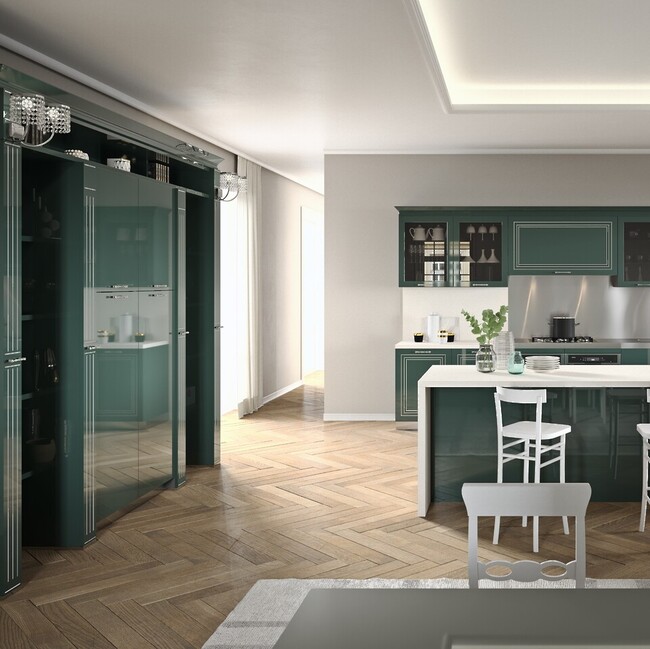 In our last blog, we talked about how to keep a custom kitchen sunny and summery even when you're deep in the throes of winter. However, plenty of folks out there love the winter aesthetic and want an ice castle vibe in their abode. This cool, chic and often minimalist style works wonderfully well in homes that have a more modern aesthetic. These homeowners want to embrace rather than offset the winter aesthetic, and the good news is there are plenty of design options to satisfy this niche as well.
A Custom Kitchen Designer Will Be Able to Help You Achieve This Aesthetic by Using These Four Elements:
1. Wintry Colours Are A Must
The first "colour" that comes to mind when thinking about winter is probably white. Indeed, an all-white design will not only look incredibly modern and chic, it is also the perfect colour to portray the winter aesthetic. With that said, those who desire a bit more variety can also use the other tones associated with winter, namely greens and greys. Combining these three colours will no doubt invoke a wintry and icy feel in your custom kitchen, perfect for a minimalist and borderline futuristic home.
2. Reflections: Mirrors and Glass
One of the best ways to really enforce a modernist and sleek look is to include mirror and glass elements. Mirrors can be incorporated into your backsplashes and cabinet doors, and glass elements can also be used for cabinet doors as well as islands and even in the small details such as cookware and crockery. Altogether, these elements really add to the entire ice castle aesthetic. With that said, combining all-white or mostly white colour schemes with glass and mirrors can result in excessive starkness, and as such your custom kitchen designer will exercise restraint in applying these elements tastefully.
3. Sleek Finishes
Just like mirrors and glass, glossy finishes really help to amplify the effect of the wintry colours discussed earlier. White marble, steel and glossy coatings may not seem to have a lot in common at first glance, but these are all finishes that complement the white, green and grey winter colour palette perfectly. Pick your favourite material and use it for standout fixtures such as cabinets or countertops, or mix and match the materials for a more dynamic effect.
4. Subtle Lighting
Snow is so bright that it seems to emit its own light. If you're going for that ice castle aesthetic, you should take inspiration from that! Fancy and opulent lighting may not work as well with this more modernist aesthetic, and as such you should consider more innovative lighting options. Lights can be placed directly above cabinets, under island surfaces, behind mirrors and more--basically, hidden lighting or lights that are laid along the lines of your furniture can help produce a glowing effect, really helping your custom kitchen lean into the whole winter aesthetic.
Together, these four design elements, especially when combined, will produce an incredibly sleek and modern winter-inspired look for your custom kitchen. This winter, embrace the season's aesthetic and show off your uniquely icy kitchen!