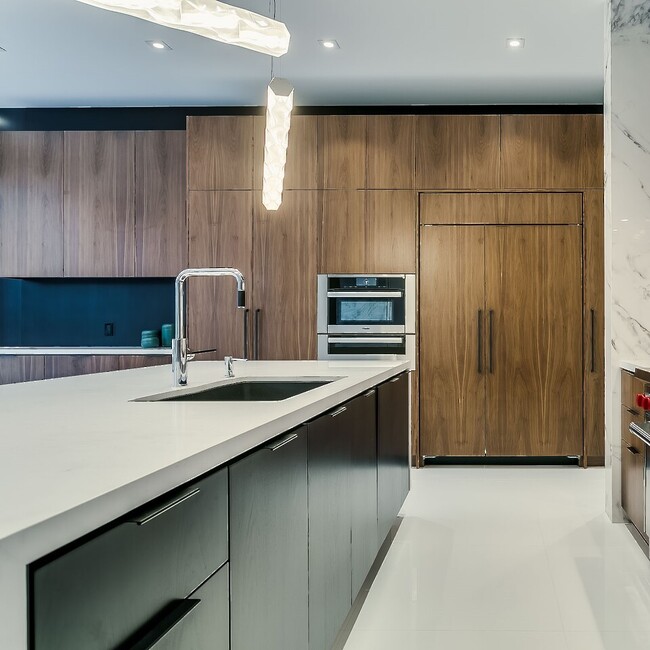 When designing your kitchen, one of the most important considerations is the kind of cabinets you go with. As longtime designers and suppliers of kitchen cabinets in Vaughan, we at NIMA Kitchen and Bath know that wood cabinets remain popular for a number of reasons, including their timeless aesthetic and dependability.
Cabinet design is usually reliant on three main aspects: the layout, style, and material. In terms of wood, there are four popular choices: maple, birch, cherry and walnut wood.
In today's blog, we will be going over four popular wood materials for kitchen cabinets in Vaughan:
Maple
Maple is one of the most popular species chosen for kitchen cabinets because of its high versatility and strength. Its characteristic straight wood grain makes it instantly distinguishable, and its uniform colour allows for the creation of a seamless and even modern aesthetic. Furthermore, its great flexibility makes it perfect for custom designs. You also have the option of staining the wood in just about any colour you prefer, with confidence that this will result in a clean finish.
Birch
Another popular option is birch, due to its smooth texture and finish because. Its natural grain beauty makes it a great asset in designs that want to center a naturalistic look and feel. It is a bit lighter than maple and also comes in a lighter colour than most wood species when stained. Its natural appeal attracts many homeowners, especially for more rustic and traditional designs.
Cherry
This is perhaps the most classic wood material that is used for many kitchen cabinets in Vaughan. It is darker in tone and over time, the wood can take on an even darker, richer colour. As such, it can serve as a perfect contrast point for lighter or more neutral kitchen designs. Most importantly, cherry is one of the sturdiest wood species available, offering timeless beauty for decades to come.
Walnut
Walnut is a classy wood that's often used in custom woodworking, and high quality kitchen cabinets. It's a bold and rich colored wood with medium density that holds up well under standard use. It often has swirls, knots and interesting grain patterns that many find pleasing to the eye and it's the type of wood that you want to show through to the outside. It's more resistant to water than some porous wood options like birch which means that you can wipe the cabinets down without fear of causing water damage or impurities.
These four options are just some of the most prominent materials that you can consider for your kitchen cabinets in Vaughan. Custom kitchens are all about choices, and when you work with NIMA Kitchen and Bath, you can optimize every aspect of your kitchen from design to durability. Contact us today for more information on our services!