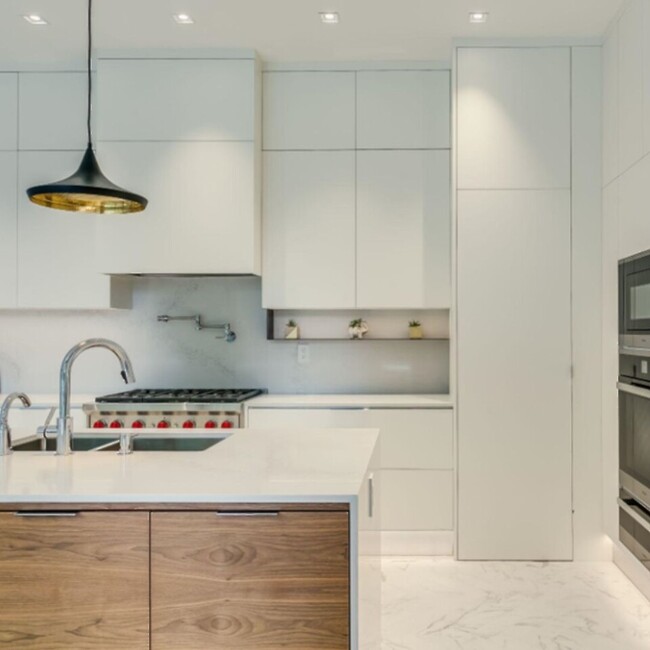 Urban kitchen spaces are the embodiment of functionality and minimalism. Soft colours, large storage space, and integrated appliances, all come together to define a quintessential modern kitchen.
However, you might want to add a bit of character to your contemporary kitchen space without compromising the functionality. To this end, here are 5 unique design ideas you can incorporate to add a touch of elegance and panache to your modern kitchen space.
5 Tasteful Design Schemes for the Modern Kitchen
Add A Dash Of Wood For A Scandinavian Touch
If your kitchen embraces a lighter colour scheme and minimalistic design, then wood accents are an excellent choice to add a little contrast. With a variety of different grains and stains to choose from, adding hints of wood elements can really elevate your kitchen design. Popular choices today are warm walnut, light blonde oak and natural rift cut oak. These accents can be done in either natural wood or high pressure laminate that imitates wood.
Embrace Traditionalism With Heritage Materials
Create a more rustic vibe for your sleek kitchen space by opting for heritage materials like reclaimed furniture and fixtures. They can help achieve a more casual, breezy feel. Replace the standard flooring with a variety of old wood that ages well. You can even go for unlacquered brass faucets as they offer a distinguished appeal after some wear.
Brighten The Space With White
A modern kitchen is known for its minimalism. Therefore, you can't go wrong with a white colour scheme that highlights the well-defined lines of your kitchen space. By opting for a pale colour palette to reflect more light, you can create an illusion of extra radiance. Furthermore, this colour scheme will really catch the eye during the dark winter months.
Opt For Simplicity And Comfort With Hygge
You can also make your kitchen a lot cosier by using a Danish concept known as Hygge, which combines simplicity and comfort to create a bewitching space. Soften the well-defined lines of your modern kitchen with some soft furnishing such as cushions and faux fur. You can also go for a cosy rug with neutral colours to add a certain rustic charm to the space without spending a fortune. Complete the simplistic look with large windows to let in the natural light and add mood lighting to tastefully highlight your interiors after dark.
Prioritize Storage For Maximum Practicality
To maintain the sleekness of your modern kitchen, you can also focus on maximizing storage space. Install sliding drawers in your kitchen island to fully utilize the space or if possible, make room for a small cupboard pantry, preferably with double-fold out doors. These customizable doors can hold an amazing amount of provisions, making them a must-have in compact kitchens.
These innovative design ideas allow you to incorporate aesthetics in your compact, urban kitchen without compromising on utility.
To install the best features for your contemporary kitchen and bath or to create an elegant kitchen layout that is customized to your floor plan, call the experts at NIMA Kitchen and Bath today.