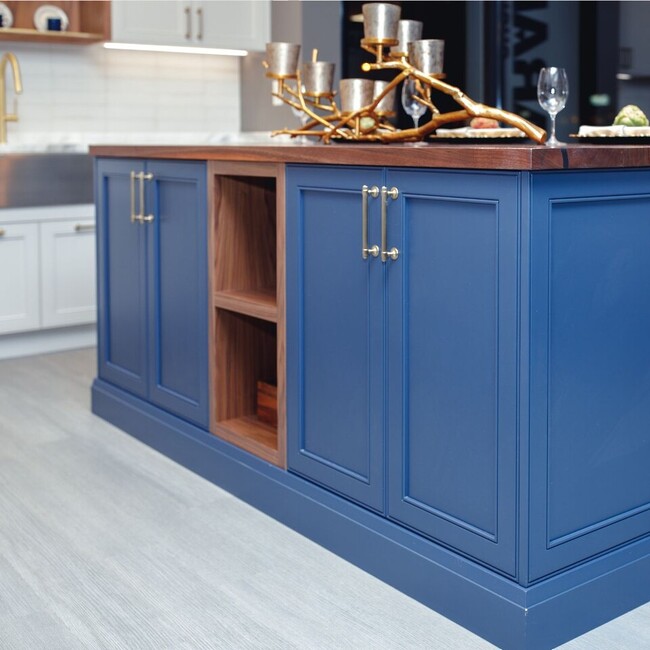 When it comes to revamping your kitchen, you have a lot of options to consider, from countertops and cabinets to appliances and lighting. But what if your budget is too tight for a full kitchen remodel but you are still dreaming about a more beautiful space? Consider upgrading your kitchen cabinet hardware. For standard kitchen manufacturers, these small elements are usually at the bottom of the kitchen renovation list, but upgrading your cabinet hardware can indeed make a big impact on the appearance of your kitchen. Here are 5 kitchen cabinet hardware options to get you started.
5 Impressive Cabinet Hardware
Gold Pulls
Sleek brass pulls are a classic and solid choice for cabinet hardware. If you're not into the shiny and bolder vibe of brass, then opt for a brushed gold option instead. They are available in a variety of finishes from a more muted champagne to a bright copper. So add class and character to your cabinets with gold hardware.
Black Pulls
Black hardware makes a bold statement, especially against white or light wood cabinets. Combine them with black plumbing and light fixtures for a seamless look or mix your metals for a more adventurous design aesthetic. Black is a great option for modern styles cabinets or a more traditional look.
Brushed or Polished Nickel
Breathe new life in your contemporary kitchen with some sleek nickel handles or knobs. While nickel and steel look similar, the difference is the underlying tone: stainless steel leans more toward the cool blue tones while nickel leans more towards the warm golden/brown tones. A brushed nickel finish will give off a more subdued look while a polished nickel will be a bit more eye-catching. Choosing nickel hardware can highlight the sleek and minimalist aesthetic of your kitchen space.
Marble Handles
Don't limit marble to just kitchen islands and countertops. Create a luxurious finish for your cabinets with marble handles. Go for milky white marble for darker-hued cabinets or on the contrary, opt for smoky black marble to create contrast with pastel colours. You can also choose to add brass detail to the handles to further boost its aesthetic design.
Hex Knobs
Liven up your kitchen space with uniquely designed hex knobs. These hexagonal knobs are a welcome change to conventional round knobs. These knobs are also available in a multitude of finishes, right from trusted brushed brass to a more matte black finish, making them a perfect fit for your custom kitchen.
Go for any of these 5 varieties of cabinet hardware to give your kitchen a subtle but classy makeover. To know more about incorporating different design schemes in your kitchen, reach out to us at Nima Kitchen and Bath today. A major kitchen and bath manufacturer based out of Toronto, our expert professionals will help you design the kitchen of your dreams.