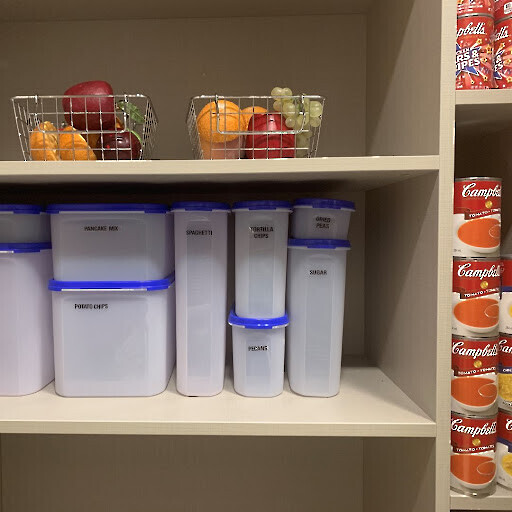 With storage becoming a top priority among homeowners and kitchen manufacturers, pantries are a godsend. Be it a walk-in pantry or a batwing pantry, they help maximize storage in your kitchen. But if you are still running out of space to store items, bad organization practices might be the culprit. Rather than increasing storage space and spending a fortune, use these 5 tips to expertly rearrange your pantry.
5 Ways to Improve Pantry Storage
Don't Be Wary Of A Fresh Start
Consider a fresh canvas before implementing good organizational practices. Remove all the items in your pantry and take stock. Are there any food products to throw away? Is it possible to store certain food products in a single container? Or perhaps you can donate? Follow these steps and you'll find a lot more free space in your pantry. Once done, clean it thoroughly and maybe install a shelf or two and you have a brand-new pantry.
Can't Go Wrong With Grouping
Group items together to create better aesthetics and utility. For example, keep the oils together in one corner and the spices in another. Further, improve your organization skills by storing everyday-use items at an easily accessible spot.
Opt For Glass Containers For Aesthetics And Longevity
Air-tight glass containers offer an elegant, aesthetic look when you open the pantry. But they also have another important use. Decanting food products into glass containers keeps them safe from moisture and spoilage. So do follow this tip and increase the shelf-life of your food.
Practice The FIFO Principle
FIFO or the First In First Out principle is an efficient method to use all goods in your pantry. Be it sodas, snacks, or fresh produce, store them in front so they are used readily. This will also ensure optimal storage as old, unused products will not take up unnecessary space.
Bring Clarity With Labeling
Despite following grouping and FIFO, it might be confusing to keep track of food items in your pantry. Eliminate this confusion with clear labelling on your food groups. Add labels to glass jars, large containers and to food groups with a short shelf life.
For more tips on kitchen maintenance or to install the best features for your traditional kitchen, call us at NIMA Kitchen and Bath. Expert kitchen manufacturers based out of GTA, we can help you customize and create the kitchen of your dreams.