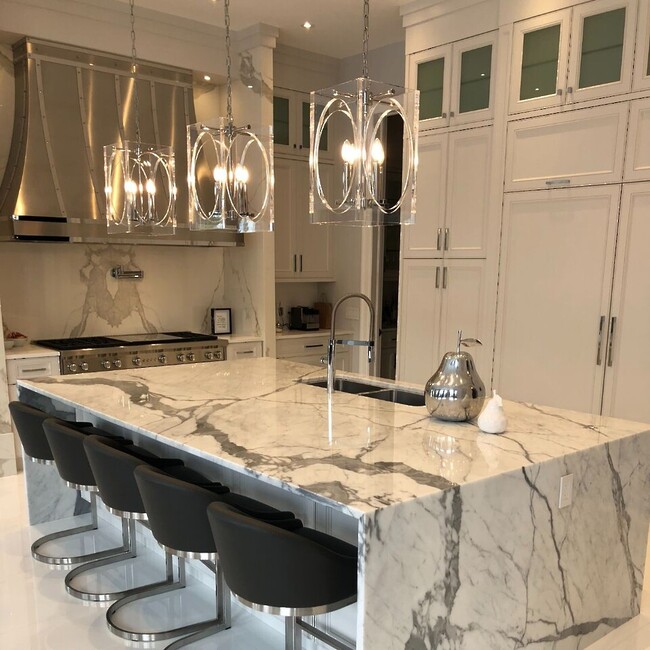 Contemporary kitchens are in vogue globally, offering a multitude of design schemes and layouts. Apart from island fixtures, flooring, cabinets and appliances, another important aspect of these kitchens is the ambient lighting.
Artificial lighting is essential in a modern kitchen for both utility and aesthetics. You can choose from many different light fixtures and layouts for your kitchen, making it a rather perplexing decision. To help you out, here are 5 ways to integrate them into your sleek kitchen space for maximum impact.
Light Fixtures in a Contemporary Kitchen
Can't Go Wrong With Vintage
For focus lighting, you can't go wrong with bare vintage bulbs on a spider pendant light fixture. Use this flexible lighting solution over the kitchen island for an impressive style statement. You can suspend the lights off the ceiling, and also use decorative shades to show off your artistic flair.
Accessorize With Ample Wall Lights
Instead of using a ceiling light fixture with pendant lights, opt for layered wall lighting for a diffused effect. Wall lights perfectly complement the pendants and provide a soft, characteristic glow. Break the monotony with this innovative installation and add some pizzazz to your cooking and dining space.
Scale Up On Size To Reflect Opulence
If your kitchen space is massive, it will most likely feature an equally expansive kitchen island. Using regular or small lights will not provide enough illumination in this case. Opt for bigger pendant lights to match the kitchen island, and to make the lights less overpowering, drape over-sized glass shades over it.
Follow Island Contours With L-Shaped Lighting
An L-shaped kitchen island with an attached breakfast bar calls for something unique. For maximum visual impact, try out alabaster pendant lighting following the L-shaped layout of the island. These gentle lights can add a diffused glow to the counter, particularly if it is granite. Combine this arrangement with a roof light to charm your guests.
Opt For Clear Glass For A Subtle Touch
Perhaps you have a classy kitchen space featuring shaker cabinets, a sleek marble countertop, integrated appliances, and an open, airy layout. In this case, opting for statement lighting might reduce the elegant appeal of your kitchen space. To avoid this, install simple glass pendants to provide gentle illumination and maintain the focus on the symmetry and open design of your kitchen.
For more tips on the statement or focus lighting, contact us at Nima Kitchens & Bath today. Our expert designers will help you achieve the desired aesthetic effect, helping you cherish your modern-style kitchen.