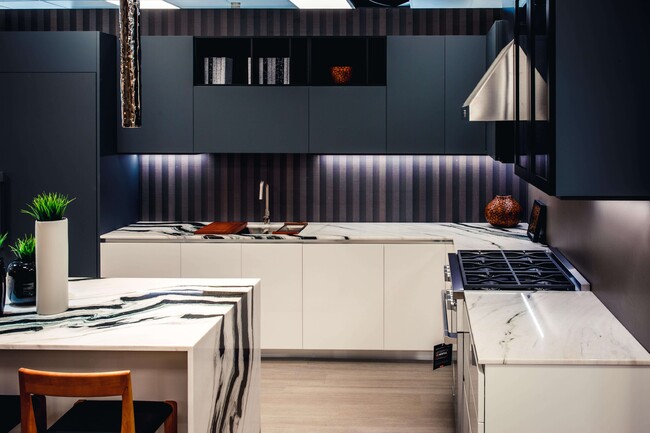 Lighting and adding accent colours are the two most common ways to spruce up kitchen space.
However, if you want to make a maximum impact, it is important to have a centrepiece, and waterfall countertops fit the bill perfectly. Made from luxurious materials such as granite or quartz, they add a flowing seamless look to the kitchen. So if you are eager to try out this countertop, here are five ways to add them to your kitchen design.
Integrating Waterfall Countertops In Kitchen
Create A Soothing Aesthetic With Veined Quartz Waterfall Countertops
The perfect pairing to an off-white cabinet is a veined quartz counter that looks like marble. They also go perfectly with blue cabinetry, drawing more focus on the countertops. Pair this combination with wood stools and brass accents to add some warmth and character.
Keep It Classy With Butcher Block Countertops
Wood waterfall countertops can be as appealing as engineered stone, if not more. Opt for a butcher block countertop to add warmth to your space. Prep your food easily and entertain guests at the same time with this beautiful yet functional design. Choose a white colour palette for the cabinets and walls to maintain an intriguing contrast.
Make Quartzite Counters The Main Attraction
Quartzite is a luxurious and natural material that comes in bold patterns. We suggest picking a solid colour cabinet in either white or grey so the stone is the standout feature. Using the same material for the waterfall counter and the backsplash will provide an opportunity to let the stone really stand out and shine as the main attraction!
Brighten Your Modern Kitchen With Quartz Countertops
Seeking an all-white aesthetic for your modern kitchen space? Start with an ivory-hued, quartz waterfall countertop with matching, flat-front cabinetry. Go for a matte black range and seating to add a monochromatic effect to the space. Pair the countertops with a light-grey backsplash to avoid monotony.
Go Bold With A Black Waterfall Countertop
If you're not into the monochromatic look then go for a bold contrast. We suggest a beautiful black quartz with white veining paired with light wood or glossy white slab doors. This look is fresh and exciting.
So you can go for waterfall countertops for your kitchen and achieve the perfect look by following these simple design tips.
For more ideas on adding countertops, cabinets, sinks, range hoods and other accessories to your kitchen space, reach out to us at Nima Kitchen & Bath today. A popular contemporary kitchen and bath manufacturer in Toronto, our experts help you fashion the kitchen of your dreams.