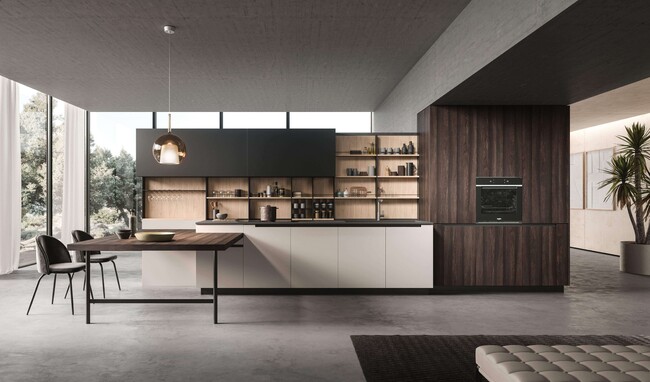 Kitchen designs are subject to personal tastes. Among the numerous modern kitchen design trends, open shelving remains popular. They offer a lot of benefits, both look-wise and functionally. From convenience to versatile decor, here are 6 compelling reasons to choose open shelving for your kitchen.
6 Merits Of Open Shelving
Try Out Different Styles/Patterns
Open shelving is very simple to implement. Try out different layouts of open shelving for desired results. Alternatively, combine them with cabinets to create a unique combo befitting your style and taste.
Fill Out Odd Spaces
Odd nooks and corners in a kitchen can be annoying. Go for open shelving to effectively use these areas and create an aesthetic and useful space. For instance, an empty space around a doorframe can be turned into a chic showcase with open shelving.
Switch It Up Without Extensive Renovation
Do you like to change the layout of your modern kitchen regularly, but don't want to spend a fortune on renovation each time? Then open shelving is perfect for you. Showcase your vignettes with open shelving, and switch up your decor as the seasons change. Wow your guests with versatile decor without spending a dime on redecoration.
Make Organizing Your Kitchenware A Breeze
Go for extensive open shelving to keep your utensils and kitchenware organized. Floating shelves go even better for contemporary kitchen design. However, make sure you are committed to keeping it meticulously organized. Otherwise, it can get chaotic and cluttered, ruining the vibe of your kitchen.
Find Your Staples At A Moment's Notice
If you are an intrepid chef or you love entertaining your guests as you work your magic in the kitchen, the last thing you want is to search for ingredients or dishware. Keep all your essentials in view with open shelving and save yourself the trouble of rooting around cabinets.
Showoff Your Precious Collection
Do you have an impressive china collection? Or local art you want to showcase? Then open shelving is a must for you. With the right layout and placement, you can show off your precious cutlery, vintage mugs and cups and precious wares.
Need more ideas on how to apply open shelving for your contemporary kitchen layout? Reach out to us at Nima Kitchens today. A premier kitchen and bath manufacturer based out of Toronto, our experts will help you make the right choices in layout, colour palette, finishing and more.