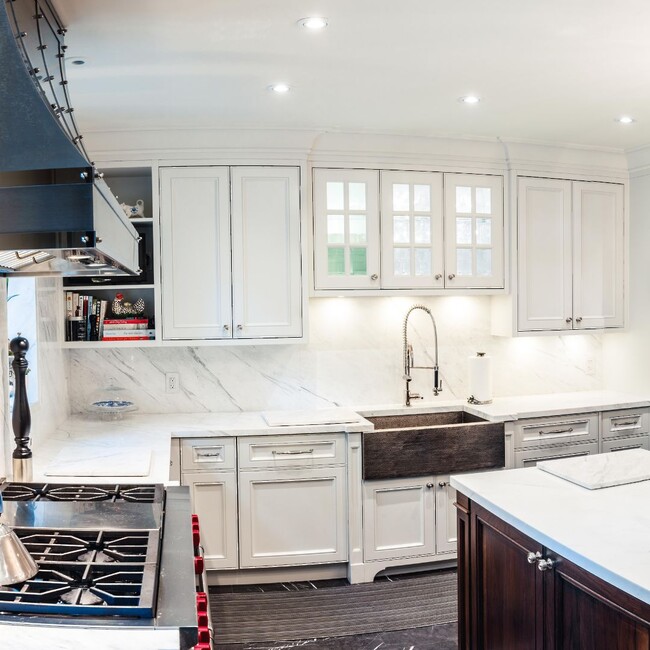 A creative kitchen design requires careful planning and consideration. You have to consider features like layout, lighting, kitchen cabinets, countertops and sinks. Speaking of the latter, there are numerous options available, including farmhouse sinks. Also known as apron front sinks, farmhouse sinks are famous for their unique aesthetic where the front side is exposed. Are you looking for something similar for your kitchen but don't know where to start? Here are 6 creative kitchen designs featuring farmhouse sinks to give you a head start.
Innovative Kitchen Designs Featuring Farmhouse Sinks
Go Contemporary With A Classic All-White Setup
Although a staple in farmhouse-style kitchens, these sinks are also suitable for modern spaces. Opt for an all-white farmhouse sink with matching cabinets for a charming, minimalist vibe. Add steel grey fixtures and appliances to create a subtle yet powerful contrast.
Strike A Balance Between Ornate And Rustic
An ornate, glamorous kitchen is the pride of any homeowner. Achieve this with opulent, golden accents, fixtures and luxe countertops and boost the elegance and beauty of your space. Add a classic, apron-front sink here to subdue the glamour with some rustic appeal.
Keep It Compact And Efficient
A farmhouse sink should match its surroundings. So if you have a compact modern-style kitchen, go for a small, compact version of the sink. Pair it with matte quartz countertops for a distinct, traditional appeal.
Can't Go Wrong With Monochrome
A monochromatic colour scheme, if done right, adds visual appeal to any modern kitchen. A farmhouse sink can help you achieve this classic look. Choose an ivory-hued farmhouse sink and pair it with matte black fixtures and hardware to achieve a subtle monochromatic contrast.
Don't Hesitate To Mix And Match
Farmhouse sinks are known to be versatile. Pair one with bold golden hardware, or perhaps powder blue cabinets and you will understand its universal appeal. You can even add them to an ornate kitchen island with dramatic pendant lighting to showcase your creative flair. The bottom line is, don't hesitate to combine different design ideas with your farmhouse sink.
Keep It Classy With A Traditional-Style Kitchen
Farmhouse sinks go best with traditional kitchen design. Feature bold, wood cabinetry, patterned backsplash, warm-hued flooring and dramatic countertops with a white farmhouse sink. This is a classic arrangement in traditional kitchens which remains a favourite among many homeowners.
Looking to add more flair to your countertops, cabinets, sinks, range hoods and other accessories? Reach out to us at Nima Kitchen & Bath today. A popular contemporary kitchen and bath manufacturer in Toronto, our experts have decades of experience in designing unique and elegant kitchens customized to your taste. Contact us today to know more.