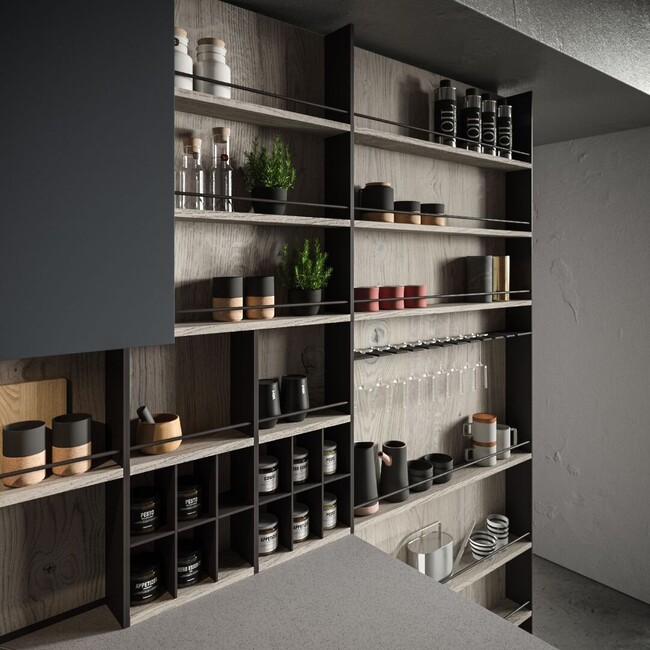 Effortless and stylish, open shelving has numerous compelling benefits. With the right tips and tutorials it is also easy to decorate them as per your tastes. But, how about practical utility? Are open shelves a great match for custom kitchens when it comes to storage? The short answer is yes. In this blog, NIMA Kitchens, a kitchen and bath manufacturer in Toronto, lists out 6 ways you can optimize your kitchen storage with this design trend.
Optimizing Open Shelving Storage
No Side Left Unused
Kitchen cabinets, although stylish, might fall short on storage. Maximize their storage potential by attaching open shelves to their sides. Store small kitchenware items like spice jars, books or platters to enhance its look. If you have a kitchen island, follow the same principle and watch your storage space grow in an instant.
Bank On Blank Walls
Blank walls are an obvious choice to install open shelving. Call in kitchen decor experts who can accurately assess your space and suggest open shelves accordingly. Use it to show off your best culinary items or cutlery for maximum aesthetic effect.
Baskets To The Rescue
Any deep shelf, be it open or within a cabinet, can become hard to organize and access, especially if it is above eye level. Opt for baskets or small bins to store all everyday use items in the deep shelves. Keep the important items close at hand and utilize the space of the deep shelves to hide clutter or sparsely used items.
Wider Is Better
What is better than floor-to-ceiling open shelving for storage? Wide open shelves extending the length of the kitchen. Create an elaborate storage system with wide open shelves where you can showcase your best kitchenware, decanted goods, books and even wine. Ensure similar items are grouped together for a streamlined look.
Don't Forget The Space Beneath The Shelf
Add hooks or brackets beneath the open shelf to further extend its storage capacity. Hang your favourite mugs or wine glasses from the hooks. Make sure the hooks are sturdy to handle the weight of the glasses.
Make Odd Corners Useful With L-Shaped Shelves
Turn your odd, unused corner into something charming with floating, L-shaped shelves. Store your important inventory at the bottom shelf for easy access and less used ones at the top shelf. Ensure all items and shelves match or tastefully contrast the colour palette of the kitchen.
Need more ideas on how to apply open shelving for custom kitchens? Reach out to us at Nima Kitchens today. A premier kitchen and bath manufacturer in Toronto, our experts will help you make the right choices in layout, colour palette, finishing and more.