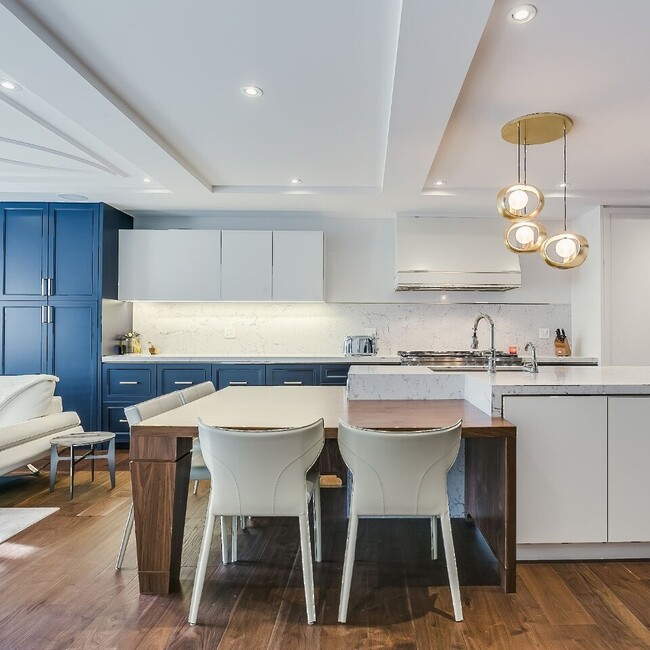 Kitchen design trends have seen multiple changes over the years. Of the many trends, shaker-style cabinets remain prominent due to their simplistic yet elegant design. The previous blog explored the basics of these cabinets and some main features. This one addresses 7 unique ways of styling your kitchen with shaker-style cabinets.
7 Ways To Use Shaker-Style Cabinets
Blend With Modern Aesthetics
With a focus on minimalism and sleek lines, modern kitchens and shaker cabinets can seem like a mismatch. However, the timeless appeal of the cabinets complements contemporary kitchens perfectly. Go for white shaker-style cabinets to give your kitchen a Scandinavian touch. Alternatively, pair them with matte black appliances and kitchenware for a vivid contrast.
Use Hardware To Reflect Character
Depending on the design of the kitchen, pair the shaker-style cabinets with the right hardware for desired results. For instance, use brass knobs for a more traditional appeal or cap pulls for a rustic, farmhouse aesthetic. Consider using gold or black linear handles throughout for a sleek transitional look.
Provoke Visual Intrigue With Two-Tone Cabinets
Opting for two different colour schemes for cabinets is a popular choice. Instead of choosing a uniform colour throughout, opt for contrasting hues on the base and wall cabinets. Try darker colours for the bottom cabinets and lighter tones for the wall cabinets. Consider mixing solid colours with wood grains for a trendy vibe. White uppers with dark grey base cabinets are currently popular as well as wood grain islands paired with off-white or light grey cabinets in the rest of the kitchen.
Inspire Minimalism With Hidden Appliances
Shaker-style cabinets are incredibly versatile. So you can add special provisions to store appliances like toasters or coffee makers. This will leave the countertop clutter-free, ensuring an organized, minimalistic look. Additionally, you free up more counter space for food prep or add more design elements.
Bare It All With Glass
Although shaker-style cabinets are all about flat-panelled solid doors, adding glass doors to these cabinets is also very popular. Showcase your glassware or precious vases with simple glass-panelled cabinet doors. But avoid intricate designs for glass doors to maintain a simplistic vibe.
Pair With Rustic Shelves For Visual Interest
Rustic shelving, made using reclaimed wood or steel pipes has a unique appeal. However, they look out of place in a modern kitchen, especially with contemporary cabinetry. Shaker-style cabinets can bridge this design clash, as it has a timeless appeal. Pair shaker-style base cabinets with these rustic shelves to create incredible visual contrast. Moreover, adding shelves is an economical way to style your kitchen and showcase your decorative items.
Maximize Storage With Floor-To-Ceiling Cabinets
Floor-to-ceiling shaker-style cabinets are the perfect way to maximize storage. Opt for this design if you especially have high ceilings, as these cabinets will emphasize the spacious nature of your kitchen. Also, they create a very clean and sleek aesthetic, as you have maximized storage space.
To learn more about custom cabinet design, contact us at Nima Kitchens And Bath today. A major kitchen and bath manufacturer based out of Toronto, our expert professionals will help you fashion the kitchen of your dreams.