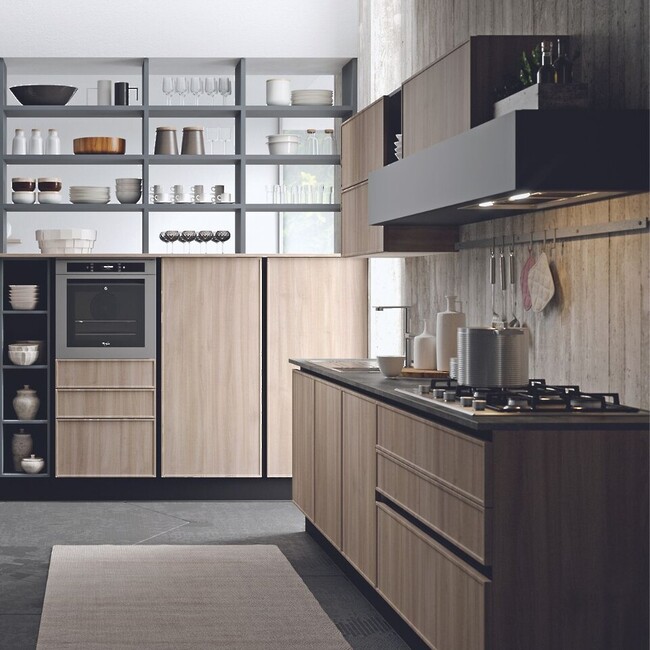 Wall cabinets are a constant fixture in most kitchen designs. However, sometimes small-sized kitchens are better off without constricting kitchen cabinets. There are multiple ways to decorate the space between the countertop and the ceiling. In this blog, we list out 7 simple yet ingenious interesting ways to make your kitchen look trendy without wall cabinets.
How To Remodel A Kitchen Without Wall Cabinets?
Go Classy With A Repurposed Display Floating Shelves
Do away with wall cabinets altogether in favour of a simple display of floating shelves. Add interest to the decor by choosing vintage, repurposed materials for shelving if it fits your design scheme. Complete the vintage setup with glass jars, rustic pots and pans, and the odd artwork or crockery.
Maximize On Decor
Wall cabinets actually can sometimes make a compact kitchen look even smaller. Alternatively, in large kitchens eliminating a few wall cabinets can invoke interesting design elements. Instead, replace them with open shelving, and use this space as an aesthetic focal point of your kitchen. Bring out your unique taste with multiple art pieces, ceramic pots or glass installations jars without compromising on space.
Hang An Artwork As A Focal Point
Sometimes, all you need is one wall to showcase your vision. Opt for a large painting or art piece on a blank wall for a subtle yet powerful effect. It will act as a perfect focal point for wandering eyes.
Go For Minimalism With Base Cabinets
Give minimalism a try by getting rid of wall cabinets and shelving as well. Only use base cabinets for storage, leaving the countertop clutter-free. A pastel colour scheme will perfectly complement this minimalist aesthetic.
Showcase Your Precious Wares And Everyday Items
All you need is two shelves and a rack to balance storage and aesthetics. Use the bottom shelf to display everyday items like spice jars, oils and wine bottles. Showcase your precious teapots, crockery or prized utensils on the top shelf.
Optimize Visual Appeal With Two-Tone Decor
Two-tone kitchens are in trend, so capitalize on them and paint style your kitchen with dual, contrasting colours. Without wall cabinets, the colours will stand out better. Go for integrated appliances with your lower cabinets to create a seamless aesthetic.
Bring Out The Jars For A Rustic Appeal
Homeowners with traditional, rustic kitchens are also embracing the no-cabinet design. Make full use of open shelving by displaying all your glass or porcelain jars on the open shelves. Complement them with crockery and pots and pans with brass accents to complete the vintage vibe.
To know more about various elements you can add to your custom kitchen, reach out to us at Nima Kitchens And Bath today. A major kitchen and bath manufacturer based out of Toronto, our expert professionals will help you fashion the kitchen of your dreams.