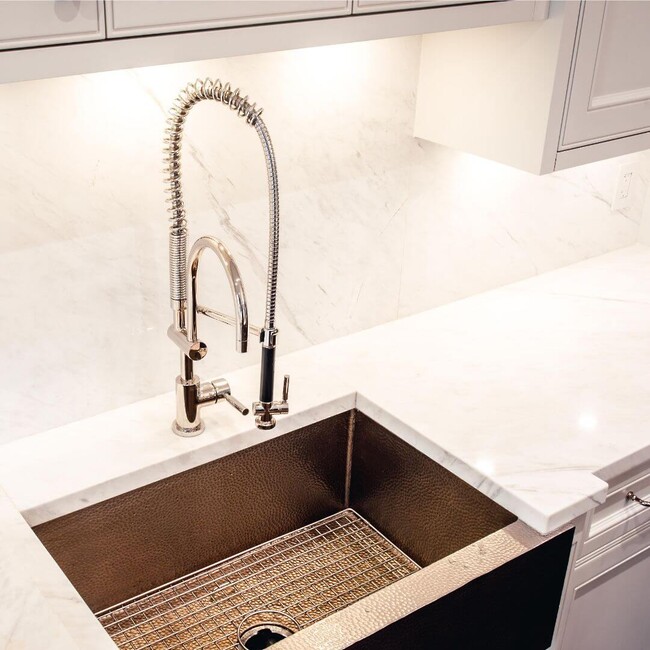 Kitchen accessories are a subtle but important part of kitchen design. Whether it is a contemporary kitchen or something more traditional, the right accessory can tie the place together. One such accessory is the faucet. Whether it's a farmhouse sink or something more modern, you can use the faucet to highlight the best parts of your kitchen space. But if you don't know where to start, then here are 8 incredible faucet designs you can add to your modern kitchen today.
Best Faucet Designs And Ideas
Choose Golden Faucets For A Luxe Appeal
Make a bold move with a golden faucet, a dramatic black sink, and a marble countertop. Pair it with some subtle golden light fixtures to double down on the luxe appeal. Go for matte black doors with golden knobs or hinges for maximum impact.
Keep It Classy With Chrome
A traditional kitchen with a farmhouse sink calls for an equally classy faucet. Go for a chrome finish faucet with lever handles, especially for an ivory sink. A patterned backsplash will accentuate its metallic, shiny finish.
Black Is Better
Think black faucets are too dull? An electroplated black chrome faucet with a concrete countertop and powder blue cabinets can make you rethink. Create a subtle yet powerful contrast with an obsidian-hued faucet as the centrepiece.
Use Curves To Break The Monotony
If your contemporary kitchen is all about sharp angles with cabinets, kitchen islands and countertops, then use a curved faucet to break the geometrical monotony. Choose an oversized, stainless steel faucet to match the countertop. Pair it with stainless steel appliances for a beautiful, industrial aesthetic.
Stand Out With The Golden Gooseneck
Sometimes, the faucet is the highlight of the entire kitchen, like a deck-mounted, brass bridge gooseneck faucet. Breathe new life into the whole space with its unconventional charm. Pair it with a white countertop, backsplash and golden brass handles to make it the showstopper.
Keep It Sleek And Simple With Brushed Brass
Minimalist modern kitchens require a complimentary faucet. Try out brushed brass with a pull-down head. Pair it with shiny marble countertops and a simple, tiled backsplash to create a beautiful, subtle effect.
Inspire Nostalgia With Vintage Spigot And Prep Sink
With prep sinks in trend, express your affinity for the vintage with a classic, oil-rubbed bronze spigot. Pairing it with a small prep sink will keep the attention on the faucet. Lastly, add this setup to a butcher block countertop as it goes exceptionally well with the spigot.
Go For Rustic Charm With A Bridge Faucet
Have a typical farmhouse kitchen? Go for a classic, drop-in, farmhouse sink and pair it with a bridge faucet. Choose ceramic-faced cross handles and a sprayer to inspire some rustic charm.
Do you fancy any of these faucets? Or perhaps you are looking for more? If so, reach out to us at Nima Kitchens and Bath today. A premier kitchen and bath manufacturer based out of Toronto, our experts will help you make the right choices in layout, colour palette, accessories, finishing and more.