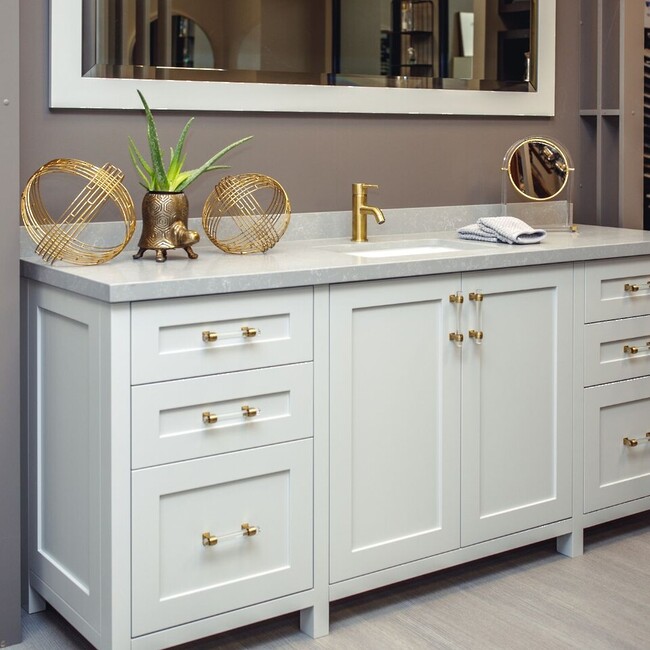 Many kitchen cabinet styles have gone in and out of trend over the years. However, one style of cabinetry remains timeless and this is the shaker. But what exactly is a shaker door? In this blog, we will explore the basics of a shaker door including its history and some related terms. The different variations, the best complementary hardware, and styling tips will be addressed in the subsequent blogs of this shaker door series.
Basics & History Of Shaker Doors
The shaker door is one of the most popular and timeless kitchen door styles. It is used in both traditional and contemporary kitchens as it is simple in design and aesthetically pleasing. A traditional shaker door is characterized by a flat centre panel and symmetrical square inner and outer edges. It gets its name from the Shakers, who were a Protestant sect founded in England in the mid-1700s and immigrated to America in the 1780s. They were known for their simple, classic and skilled craftsmanship of quality furniture that did not include elaborate carvings or embellishments.
While this style has been around for almost 250 years and is still popular in its traditional form, it has also evolved slightly over the years.
Things To Know Before Opting For Shaker-Style Cabinets
Before selecting the perfect shaker cabinet door, you should have some basic knowledge of the terms used to describe the different styles. Here are some helpful terms to get you started:
Panel: The center portion of a cabinet door. They can either be flat (commonly referred to as recessed) or raised. Flat panel doors are the most popular now as they look lighter and more minimalistic.

Rail: The top and bottom portions of the door frame.

Stile: The left and right portions of the door frame.

Outside Edge: The outer edge of the door frame. They can be plain or have a decorative detail.

Inside Edge: The inside edge of the door frame where the frame meets the panel. They can be left plain or have a decorative detail.

Thickness: Doors are available in a variety of thicknesses. We at Nima Kitchen & Bath typically use 3/4" or 7/8" thick doors.

Material & Finish: The 3 most popular options of material for shaker doors are Wood, MDF or Laminate.
MDF: If you want a solid colour (for example White, Grey or Navy) your kitchen designer will likely recommend painted MDF. These doors are made in one piece so they will not crack or warp with changes in climate like wood doors.

Wood: If you are looking for a stained finish, then you want a wooden door that will show the natural grains. A few typical species of wood used in Canada are maple, oak, and walnut. However, it is important to consider that natural wood can vary in colour and grain so if you want a uniform look then it is best to use medium to darker stains.

Laminate: If you are on top of the trends, then you have likely seen plenty of kitchens in a light oak finish. Keep in mind that while they look like real wood, they are most likely laminate doors with wood finishes. The best way to achieve a uniform light-grain finish is with a manufactured laminate door. The benefit of using laminate is that they are very durable and easy to maintain. They are also available in many different colours and textures.
For more tips on kitchen cabinets and styling, reach out to us at Nima Kitchen & Bath, a popular Toronto-based kitchen and bath cabinet manufacturer. Our shaker doors and cabinets are known for their impeccable design and craftsmanship. For more details, contact us today.