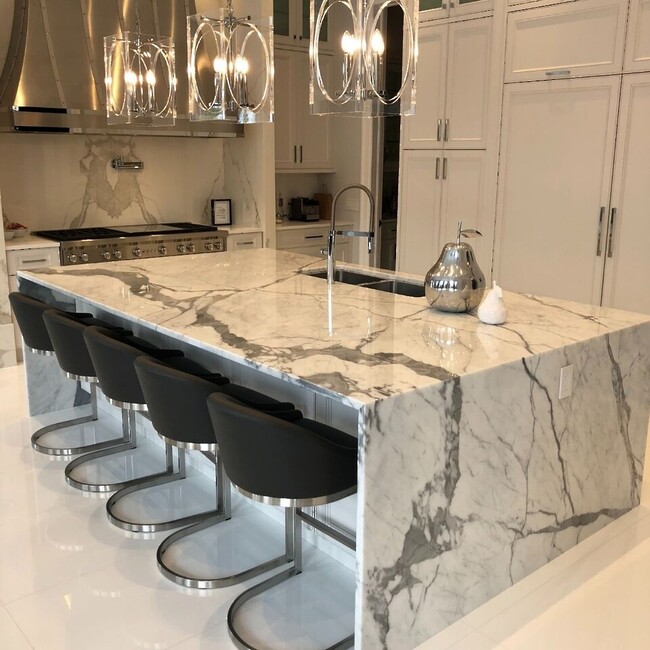 Having the right countertops is essential to ensuring your custom kitchen has a cohesive and harmonious look. Its value is not only aesthetic. Countertops are one of the biggest investments to be made and for good reason. Replacing countertops is a troublesome and expensive affair, so you have to make sure your countertop design and quality are timeless.
In today's blog, we will be comparing the different materials used in countertops for your custom kitchen.
Indeed, the most important element of countertop selection is choosing the right material. There are five main materials considered to be luxury materials: granite, marble, quartz, quartzite and solid wood, with each bringing its own benefits. As luxury materials, they guarantee immaculate aesthetics and durability, ensuring the long-lasting value of your kitchen and home.
1. Granite
As a natural stone material, granite brings a pleasing naturalistic look to a kitchen. The surface of granite is marked with a distinctive pattern, much like marble, that is sure to set aside your countertops as a statement piece. With its strong durability and high level of heat resistance, it is considered a classic material of choice for countertops.
2. Marble
Like granite, marble has a distinctive appearance. Its polished surface brightens and opens up a space, exuding elegance and luxury. While all these materials can come in a variety of colours, it has become increasingly popular to utilize white marble, harking back to the timeless aesthetics of the Classical period.
3. Quartz
Quartz is an engineered stone material created by combining ground natural quartz with resin and polymer. This process has made quartz more durable, reliable, and easy to maintain. It is also considered the most eco-friendly of all the stone materials. It comes in a wide array of colours and patterns that makes it a very popular choice for homeowners.
4. Quartzite
Not to be mistaken for Quartz, Quartzite is a natural stone material similar in aesthetics to Marble but more durable like Granite. The main charm of quartzite countertops is the light colours and patterns. It often consists of subdued sparkling markings due to crystallization from the process of high heat and pressure of natural quartz and sandstone which results in striking white and grey hues. This material has become a favourite among homeowners due to the increasing popularity of light cabinetry and subdued colour palettes.
5. Solid Wood
For a time, solid wood countertops were decreasing in popularity as designers opted for the tried-and-true durability of stone materials. However, countertop manufacturers are now able to seal, treat, and coat wood to ensure resistance to water and heat damage. The revival of wood in the kitchen is welcome to designers, who eagerly tap into the design potential of this versatile material's unmatched naturalistic aesthetics. Furthermore, repurposed wood can be used in manufacturing countertops as well, aiding homeowners in lessening their carbon footprint. While we would not recommend a wood counter for the entire kitchen, using it on the island or in a smaller area would be great to add warmth, character and dimension to the kitchen design.
With these considerations in mind, you can now begin to select countertops for your custom kitchen. Talk to the experts at NIMA Kitchen and Bath about your ideas for your custom kitchen, and we will be sure to make your dream a reality.