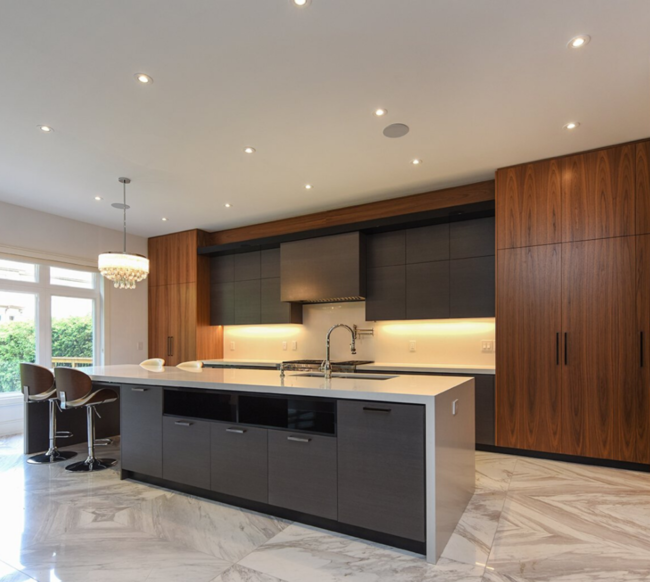 When you are getting a custom kitchen planned and designed, one of the key considerations you will have to take into account is your cabinet hardware and design. Cabinets serve both a functional and aesthetic purpose, but most importantly, they need to be optimized to be effective at storage, easy to use, and durable. The type of cabinet hardware you go for will play a significant role in this.
Here are some considerations to keep in mind when selecting cabinet hardware:
Handle Type
Usually, a kitchen can have a combination of knobs or pulls set up. The general advice is that pulls are better for drawers and knobs are better for cabinet doors. However, if you want a more streamlined look, you can choose one type over the other. There is also the option of a push-open mechanism that allows you to open your cabinets with a gentle push. Another modern and sleek option is a concealed c-channel handle. These types of handles eliminate the need for traditional handles and allow the cabinets to be pulled open with a hidden c-channel from behind.
A quality custom kitchen designer will be able to pull these elements together and provide you with cabinetry that is still easy to use while conforming to your preferred aesthetic. Make sure to consult with your designer regarding the size and placement of the handles as well.
Finishing
Another option you have to consider is the finishing of your hardware. Hardware can be made from many different materials but metal is the most durable. You can opt for a more traditional or antique look with brushed nickel, or a more modern and minimalist look with chrome. Consult with your designer on which finishing is the best for your kitchen aesthetic.
NIMA Kitchen & Bath designs full custom kitchens from start to finish, ensuring that your aesthetic is cohesive. We specialize in custom Italian kitchen cabinetry, bringing you the latest trends in European design. Contact our experts today to learn more about our services and how we can help you transform your kitchen!