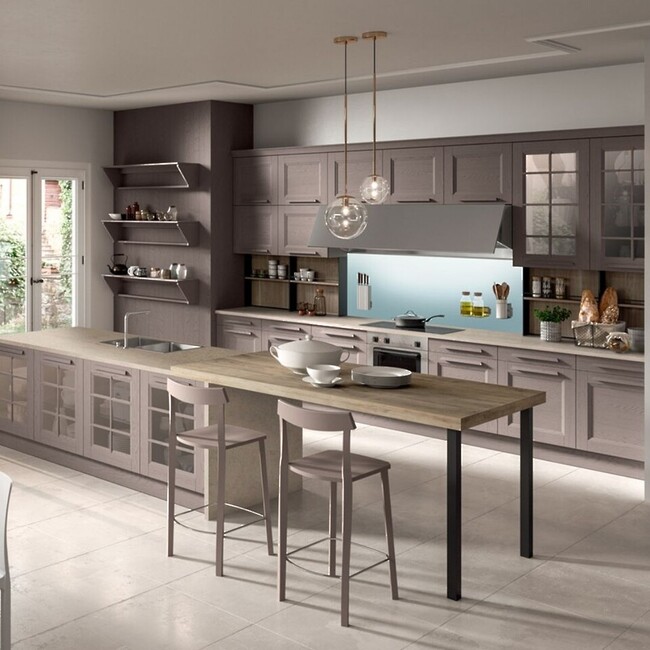 Being a first-time homeowner can be daunting, especially if you plan on customizing your home. One of the hardest areas of a home to design is the kitchen, as there are so many functional elements to consider. When you work with a custom kitchen design company, you will need to know enough about what you want and how you want things done in order to ensure the designers deliver on your vision.
As seasoned custom kitchen designers, we at NIMA Kitchens have compiled a list of priorities for first-time homeowners to focus on.
Read on to learn what goes into custom kitchen designs.
1. The First Priority: The Layout
Your kitchen layout is the foundation of everything. Without a good layout, even the most aesthetically pleasing kitchen will not be a success. When it comes to zeroing in on the right layout, the first thing you should do is identify your work triangle. What is a work triangle? In a kitchen, there are three points of high traffic: the refrigerator, sink and stove area. A good kitchen layout will ensure this triangle is well-spaced for convenience and efficiency. Expert custom kitchen design professionals can get creative with layouts as well, incorporating different elements such as islands, pull-out drawers and built-in pieces for both aesthetic and functional purposes. No matter what amount of space you have to work with, a good kitchen layout should ensure you have adequate space to perform your daily chores while also making space for aesthetic elements to help your personality shine through.
2. The Theme to Tie Everything Together
The theme of your custom kitchen design has to go hand in hand with your kitchen layout. There are many elements that go into deciding on a theme. You will need to choose the right colour palette, the right materials and the right style of appliances, cabinets, countertops and more to make a theme aesthetically cohesive. Say you want an industrial-style kitchen. You will need to look at a lot of darker colours, different kinds of metals and find ways to be creative with storage. At the same time, you can introduce some creativity by bringing in some wood as well. Furthermore, you have to accept that you may have to make compromises in terms of colour and material preferences in order to stay on theme. For instance, ornately patterned backsplashes may not work well if you're trying to go for a minimalist theme.
3. The Little Details
One of the hardest things to do when designing a kitchen is to stay on top of all the little details. After painstaking effort to choose the right colours and materials, you may not put as much effort into selecting components such as hardware, appliances, cutlery and cookery. If your kitchen is surrounded by large windows, what about curtains, blinds or other window treatments? What about table mats? These little things are necessary to tie a space together. Effective custom kitchen design is just as much about the big picture as it is about the little things. A beautiful cabinet or countertop set will not play its aesthetic role perfectly if it is not finished off with the appropriate handles or knobs.
4. The Final Touches
After ensuring all the key design elements of your kitchen are in place, it is time to think about the final touches. The right kitchen lighting plays a significant role in highlighting the aesthetics of your kitchen. From minimalist to extravagant, a good custom kitchen designer will be able to accommodate your lighting preferences and make your kitchen design sing. On top of that, there are other things to consider as well. If you have some extra corner space, try making the most of that by inserting a nook or perhaps custom-building some shelves or extra pantry space. Many first-time homeowners often realize later on that they should have made more space for relaxation or storage.
These four tips should help you get your priorities straight for your custom kitchen design. Make sure you work with trusted professionals such as NIMA Kitchen and Bath to ensure that your vision can be executed efficiently. For more custom kitchen tips on modern and traditional kitchens, check out our blog!