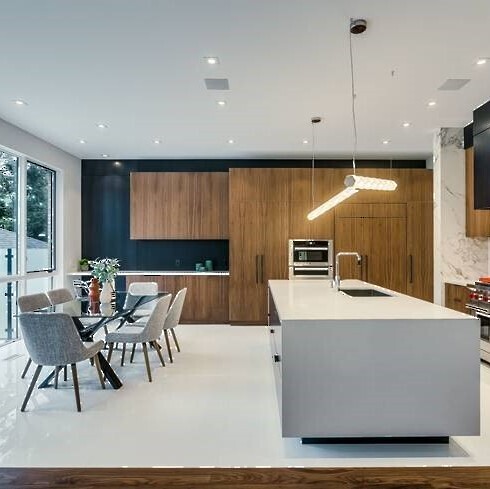 There is a fair share of diversity among kitchens in today's design scene. While homes in general have started to tend towards smaller sizes with the popularity of high-rises and the recent trend of tiny home living, many homeowners still prefer having larger kitchens. There is certainly nothing wrong with having a small kitchen, and there are plenty of tips and tricks on how to use space efficiently in a small custom kitchen. With that said, there is no denying that large kitchens can more easily undertake the most ambitious and creative custom kitchen designs.
In today's blog, we go over the custom kitchen design principles behind large kitchens and their benefits.
1. Embrace the kitchen as a place for entertaining, socializing and more

The biggest setback of small kitchens is how they ultimately become function-focused, not giving you the freedom to use the space for multiple purposes. There is no such restriction with large kitchens. Large kitchens can incorporate a sizable island in the centre of the room, almost like a centrepiece. The rest of the kitchen is then designed around the island, leaving ample room for walking, prep work, and guests. Indeed, one of the most popular requests in custom kitchen design is to make spaces more open and inviting to guests. An island-centric layout allows for socializing and creates a natural flow to traffic in your kitchen. With a larger space, you can have the freedom to add in more elements for entertaining guests into your custom kitchen design plan. Recent events have caused many people to spend more time at home and the kitchen has now become more versatile and multi-functioning. A larger kitchen can easily be used as an improvised home office and having an abundance of storage space can help to easily transform it back to an entertainment space when required.
2. Splurge on the best appliances

Sometimes, available space can become a barrier for homeowners seeking to acquire specific appliances or furniture that have a larger footprint. This typically applies to refrigerators and other fixtures such as hutches, wine cabinets, and even cocktail bars. With a large kitchen, you can include all your dream appliances into your custom kitchen design without having to worry about over-cluttering the space. Make your preferences for these appliances known to your custom kitchen design consultants early on so they can make sure to factor in their footprint into the layout design.
3. Consider the elusive U-shaped kitchen layout

The U-shaped kitchen layout is considered elusive because it typically only works with larger spaces. In fact, it is almost never recommended if a homeowner wants to incorporate an island. However, with a large kitchen, you can successfully install an island while still enjoying the aesthetic and functional benefits of a U-shaped kitchen. In U-shaped kitchens, three consecutive walls are lined with cabinets and appliances. The island can then be placed in the centre, and because of the large amount of space you have, the kitchen will still look open, albeit more structured and full than usual.
4. Experiment with all your storage options

With a large amount of space to work with, you can incorporate the most advanced storage solutions in your kitchen. In fact, there may even be enough space to build a custom pantry. For serious home cooks and chefs, this is one of the major advantages of having a larger kitchen. When designing your custom pantry, work closely with your consultant to determine categories for sortation, a general layout, and the different kinds of shelves, drawers, and more that you can use.

Whatever your preferences for aesthetics are, the biggest benefit of large kitchens is that you will certainly be able to achieve your dream custom kitchen design without having to compromise much. No matter the size of your kitchen, the experts at NIMA Kitchen will make it our mission to help you realize your dream kitchen. For more ideas on designing kitchens and making the most of the space you have, check out the NIMA Kitchen and Bath blog.