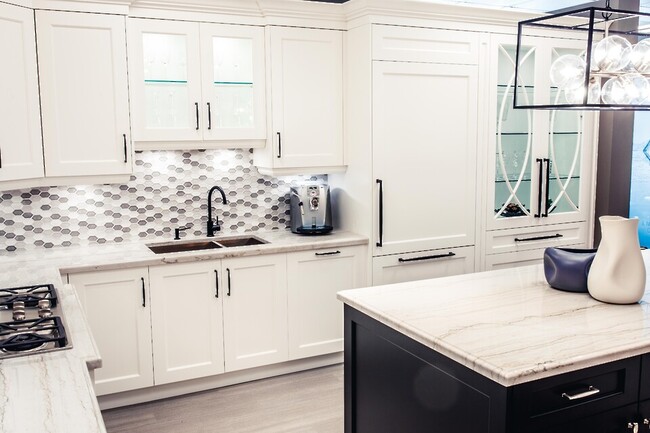 The kitchen is one of the spaces in the home that sees the most foot traffic, and because of this, it is important for it to be bright and open. There are plenty of custom kitchen designs that can get you your ideal kitchen. However, it's important to consult your kitchen designer on what will suit your home best.
Here are some ideas on how to create a bright, open space for your kitchen:
Colour Schemes
The colour story of your kitchen is perhaps the most important factor when it comes to creating a custom kitchen design that feels open. Bright colours, especially white, is the best for making a kitchen seem bigger and brighter. White reflects light, thus creating the illusion of openness and space. There are many hues of white that can be used as well. If you want a warmer feel, off-white tones are best.
You can also go the other route and add contrast to your white cabinets. An entirely white design can be a bit stark. A secondary bright colour, or small pops of dark colours, can work wonders to add dimension while still maintaining an open feel.
Layout Planning
If you have a smaller space to work with, you will have to optimize every inch available to you. Where you locate your cabinets and island is crucial. Make sure you let in as much natural light as possible by placing your cabinets appropriately. When you use custom kitchen design services, the professionals at NIMA Kitchens will be sure to consult with you on placement and layout.
Minimalism is Key
This advice is not only applicable for kitchens but for the entire home. If you have less space, it will be important to reduce clutter as much as possible. One key design aspect of minimalism is the use of glass. Glass-front cabinets can work wonders to open up a space. In general, the use of reflective surfaces should help create a bright and open feel. Nowadays, modern and minimalistic kitchens are on the rise as homes begin to have smaller layouts. Keep your custom kitchen design simple yet effective, and be sure to make use of storage space as much as possible.
Good Lighting
Lighting is an important aspect of interior design. If you want to amplify space, choosing the right lights will be key. You can opt to give your kitchen more personality in the midst of its simple design by utilizing flamboyant light fixtures, or you can maintain the theme of minimalism and choose futuristic looking lights, with hidden fixtures. There are also lights that can be installed under cabinets or islands to create a sleek and open look.
As you can see, there are many options with custom kitchen designs to give small kitchens as much aesthetic prowess as larger ones. Make sure to consult with design professionals such as those at NIMA Kitchens. Call us today!