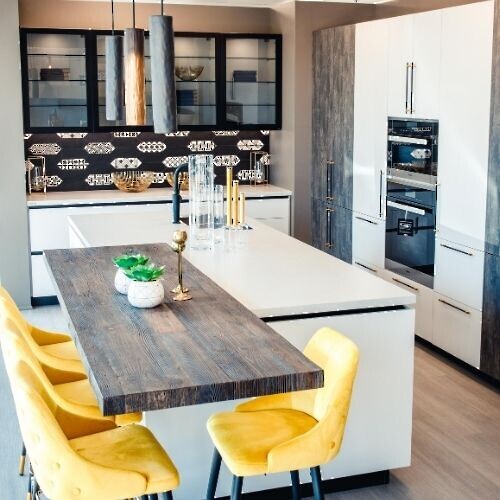 When it comes to designing a custom kitchen, there are many factors to consider, from the style of your cabinets to lighting. Throughout this process, some key elements may be neglected. However, for a truly cohesive kitchen design, every aspect of the kitchen has to be carefully planned in line with the overall aesthetic of your design.
Over the next several weeks, we at NIMA Kitchens will be highlighting some of these important aspects to consider when designing your new kitchen. In today's blog, we will be focussing on an often-overlooked part of the kitchen: the backsplash.
Getting the right backsplash for your custom kitchen comes down to finding the right materials and colour.
Here are some ideas for backsplashes:
1. Elegant Marble
For a glamorous and luxurious kitchen, marble can be a great option for backsplashes. Typically, people tend to use marble for their countertops and islands, but why not think outside of the box? You can leave your countertops, cabinet surfaces, or islands solid white, while highlighting the sophistication of your kitchen design by using a marble backsplash. Marble tile is utilized here, which is far easier to install than solid marble slabs in other kitchen fixtures. Pair your marble backsplash with solid whites and blacks throughout your kitchen for that defining elegant look.
2. Splash of Colour
Nowadays, all-white kitchens are a popular trend, helping homeowners to realize a simple and minimalistic aesthetic. With that said, all-white designs tend to create starkness and can end up exuding a lack of warmth or welcome. To counter this, we suggest infusing a splash of colour into your kitchen décor by having a colourful backsplash. Pick a colour that suits your aesthetic and find ways to elevate it. For instance, if your colour is green, consider using an emerald tone on subway tiles for that trendy industrial look.
3. Decorative Tiles
Do not be afraid to go bold with your choices. Decorative tiles can help bring a ton of personality to a space and add depth and dimension. Diamond-shaped tiles please with their straight lines and geometric patterns, while mosaics add artistic flair and bring a rustic vibe. Get creative with your choices, but take care to ensure that no one element in your kitchen is too overpowering. The design experts at NIMA Kitchens, who specialize in custom kitchens, will be able to help you choose the right designs.
4. Seamless Transitions
For more modern custom kitchens, designers tend to prefer using the same materials in a number of different kitchen elements. One of ways to do this is by using the same solid surface used for the counters and continuing it on the backsplash. This seamless transition creates a flow of design that is vital to the aesthetic of modern homes.
5. Mixing and Matching
Sometimes, homeowners struggle with multiple ideas and dread having to just pick one. It should come as good news to these homeowners that mixing and matching materials and designs is now in! Your backsplash can utilize solid surfaces everywhere, with touches of decorative tiles either below the hood or in a crafty spot such as a coffee nook for dramatic flair. Designers can help you achieve this in a tasteful manner, so don't be shy in letting them know your design preferences!
Overall, designing a custom kitchen requires one to take into consideration all the different elements. Even something as small as cabinet handles play a significant role in tying your aesthetic together. At NIMA Kitchens, our detail-oriented design experts make sure that every part of your kitchen works together to help you achieve your vision of a dream kitchen. Through this series, we hope we can shed some light on the options you have in designing custom kitchens. Stay tuned next week for our overview of cabinet handles!