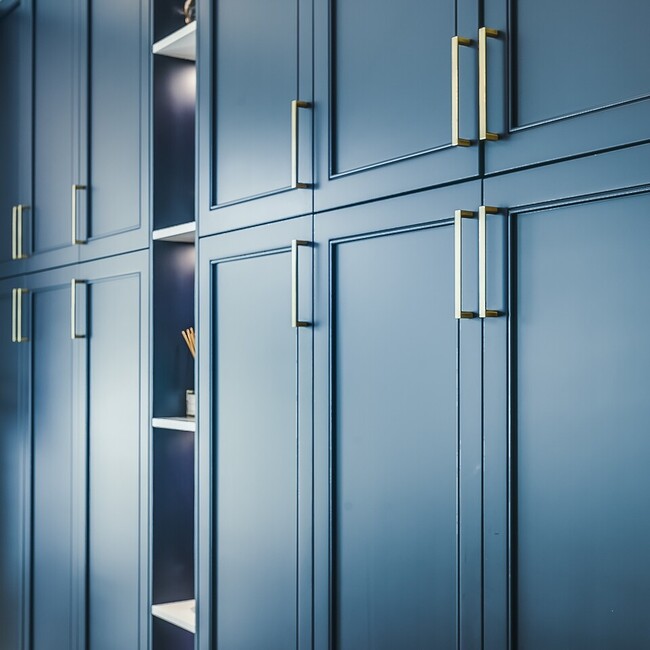 Welcome back to our custom kitchen design series! Today, we will be tackling handle options for your cabinets and drawers. They may seem like small parts of the picture, but they actually play a significant role in tying a space together, ensuring cohesion and elevating style.
With today's blog, we hope to highlight how small elements such as handle designs can benefit the overall look of your custom kitchen.
Here are some handle design ideas to consider:
1. Matte black
Black is a classic colour, and the matte version of it brings an added touch of luxury and sophistication. One of the greatest benefits of black handles is that they can pair well with virtually any kind of cabinet or drawer colour and design. They are also a great contrasting element, working well with all-white kitchens and or successfully grounding colourful kitchens.
2. Gold or Brass
Gold and brass are great choices for both traditional and modern custom kitchens. They are known for their stylistic longevity, being able to adapt through their timeless look. You can further elevate this aesthetic by incorporating other gold or brass elements into the finer details of your kitchen, such as by using brushed brass or tinted stainless steel cutlery.
3. Nickel or Steel
Brushed Nickel or stainless-steel knobs and handles are a great option if you want your hardware to blend rather than stand out. They work well with many kitchen designs as they complement other elements in the kitchen such as stainless steel appliances, sinks and plumbing fixtures.
4. No Handle
For a seamless and ultra-modern look, consider going without handles. Cabinet doors can have lips or pull-outs using the same material, or go without any of those features at all, creating an impressively clean-cut look. These true-handless cabinets have rails behind the door with space for you to slip your fingers in and pull the door open. There is also the push-to-open option, allowing you to pop open your cabinets with a light touch or a bump with your foot for the lower cabinets.
In addition to these options, there are also plenty of other styles to consider such as the more decorative marble, glass or acrylic pulls. You will also need to decide on the shape of the handles, which can come in varieties such as knobs, handles, cups and more.
No matter your preferences for your custom kitchens, you can count on us at NIMA Kitchens to deliver on design advice and implementation. Stay tuned for our next blog on countertops!