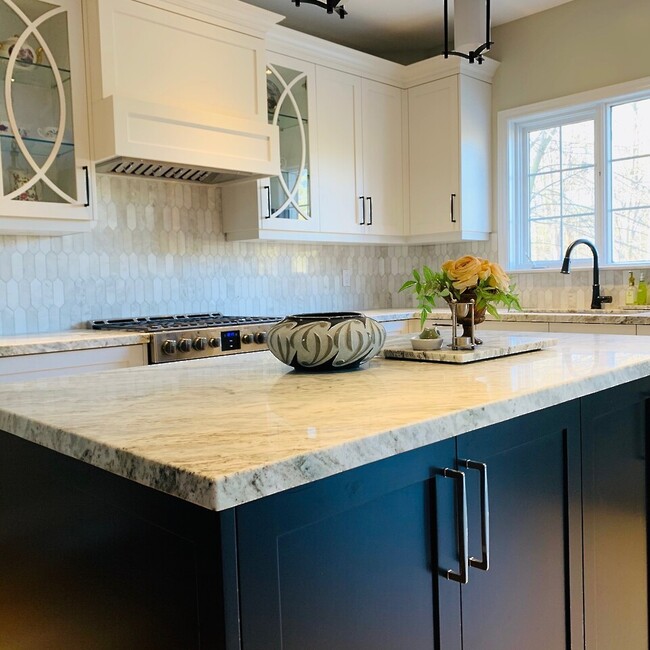 We at NIMA Kitchens are excited to hop back into our custom kitchens series today. Previously, we shared how handles can be a big part of designing a custom kitchen. As part of this series, we want to delve into how the little details can amplify and elevate a design theme. Any professional kitchen designer worth their salt knows that every piece in the kitchen has to be carefully selected. Of course, this includes countertops, an element in the kitchen that actually takes up a good amount of visual space.
When it comes to countertops, the most important component of its design is its material. Generally, the shape of countertops are quite uniform, and so to distinguish your custom kitchen design you will need to select the best material for your countertops to make them pop and fit perfectly with the rest of your kitchen.
Here are some ideas to consider for countertops in your custom kitchen:
1. Quartz
Countertop quartz is an engineered stone product containing quartz and other minerals, bound together with resin and shaped into a slab. It is preferred for its slight edge in versatility and longevity compared to other materials. For instance, you can get quartz countertops in wide range of colour options, and it has scratch and stain-resistant properties due to the fact that it is non-porous. In terms of its look, it comes in a variety of styles including solid colours, veining patters similar to marble and speckled patterns similar to granite. Do take note that it is heavier than other materials and can be pricier at the outset, but its durability does make up for repair and maintenance costs over time.
2. Granite
Granite is a traditional material that exudes elegance and luxury. It is highly durable, being incredibly resistant to heat damage. There are a wide range of colours and types available, and the material can be treated with sealers that ensure you can cut down on maintenance needs as much as possible. No two slabs are alike and this material can provide a unique elements to make the kitchen design stand out. With that said, granite is a little more vulnerable than quartz, but with expert hands such as those at NIMA Kitchens, you can rest easy knowing the installation process will go smoothly.
3. Marble
Like granite, marble is a natural stone material preferred for its seamless and organic look. One of the biggest draws of marble is that no two marble pieces will look exactly the same due to the unique vein patterns. Marble does have the tendency to stain or scratch if you do not use the right sealers, so make sure to consult with your custom kitchen designer on this aspect.
4. Wood or Butcher Block
Wood or butcher block countertops bring a homely and rustic feel, and as such are more preferred in traditional kitchens with a country-style design. The most common materials such as maple and oak bring a rich blend of colour and warmth to your kitchen. The only downside of this kind of material is its vulnerability to scratching as well as water and stain damage. Make sure you oil and seal your wooden countertop every now and then to mitigate these effects as much as possible.
It isn't all about materials when it comes to countertops. Once you have chosen your preferred material, you can start choosing the colours. Typically, homeowners should settle first on whether they want a bold or muted colour. Colours play a big role when it comes to the overall feel of your custom kitchen and can drastically change the perception of a kitchen design.
Generally, our advice when it comes to bold or muted colours are as follows:
Bold: Splashes of bold colours in your kitchen on your countertops or islands can help pieces stand out. The crisp lines offered by contrasting colours can elevate the modernity of your custom kitchen as well. In addition, bold colours bring a feel of uniqueness to your kitchen, adding an extra bit of personality.
Muted: Muted colours work well if you have a traditional custom kitchen utilizing classic elements that can stand on their own. Muted tones of white or cream do a great job at opening up at space without making the space look sterile or clinical.
We hope today's blog has been informative in helping you choose materials and colours for the countertops in your custom kitchen. The ultimate goal should be to tie everything together and present one cohesive kitchen design. Our goal with this blog series is to help you do just that! Up next: sink and faucet options. Stay tuned!