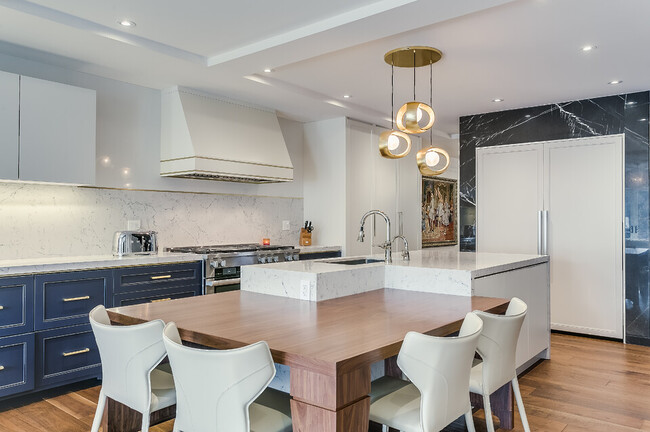 Hood fans are an integral part of any kitchen, not just for the functionality they serve, but also because they can play an important aesthetic role. It is important to settle on the type of hood fan you want and what kind of material it should be made of when you are in the process of designing your custom kitchen. Leaving these elements for the end is not advisable, as hood fans take up quite a lot of visual space and can have quite a lot of sway in terms of the look of your cabinets and more.
Here are some hood fan-related design tips to keep in mind for your custom kitchen:
1. Types of Hood Fans
In general, there are five main types of hood fans. The style you choose should be integrated with the style of your cabinets and have some kind of general cohesion with the rest of your custom kitchen design. Of course, functionality matters too, and you should take care to consult with professionals on the different types of ventilations, installation methods, and more.
Under-Cabinet: for a seamless look, this type of hood vent mounts directly underneath an over-the-range cabinet, leaving your cabinets undisrupted.
Over-The-Range Microwave Vent: this type of vent combines a microwave with a vent and is mounted directed over the stove. This is a great solution for space-saving and boasts a streamlined, minimalistic look.
Wall-Mount: as the name implies, this type of hood fan is mounted onto the wall above the stove. It is a standalone piece, not requiring a mount or cabinet. This is an interesting style that shows off the individual hood fan piece, and can be both modern and rustic depending on what it is paired with and what materials or colours it is made of.
Ceiling-Mount: this type of hood fan hangs from the ceiling, extending downward towards the stove. For this reason, it is more commonly used with island cooktops.
Downdraft: this hood fan is installed on the wall surface right next to the cooking space instead of directly above. Like the microwave vent, it is a great space saver but is not ideal for most types of kitchens and in most cases, designers will recommend a microwave vent instead of a downdraft vent for space-saving situations.
2. Hood Fan Materials
Appliance materials are a key consideration for custom kitchen designers. Everything down to the type of utensils used has to be carefully thought out. There are many different kinds of materials to choose from when it comes to hood vents: copper, stainless steel, tempered glass, zinc, bronze, nickel silver, and even wood. These all play a key role in aesthetics, and in the case of most materials, you can opt for different finishes as well to enhance a particular look.
3. Colour Schemes
Typically, naturalistic colours work best for hood vents. This either means maintaining the original finish of the hood vent material, or opting for muted, organic tones. Another important consideration is to ensure your hood vent colour matches with or at least complements your cabinets. This is why many choose to stick with tried and true finishes such as stainless steel, as that can pair suitably with almost any aesthetic.
A popular trend nowadays for custom kitchens is black hood vents. Black works wonders in complementing a two-toned colour scheme and in adding eye-popping contrast. With effortless elegance and sleek aesthetic, you can almost never go wrong with dashes of black in your custom kitchen.
We hope today's blog has given you important insight into choosing hood vents for your custom kitchen. Stay tuned next time for more design tips from NIMA Kitchens!