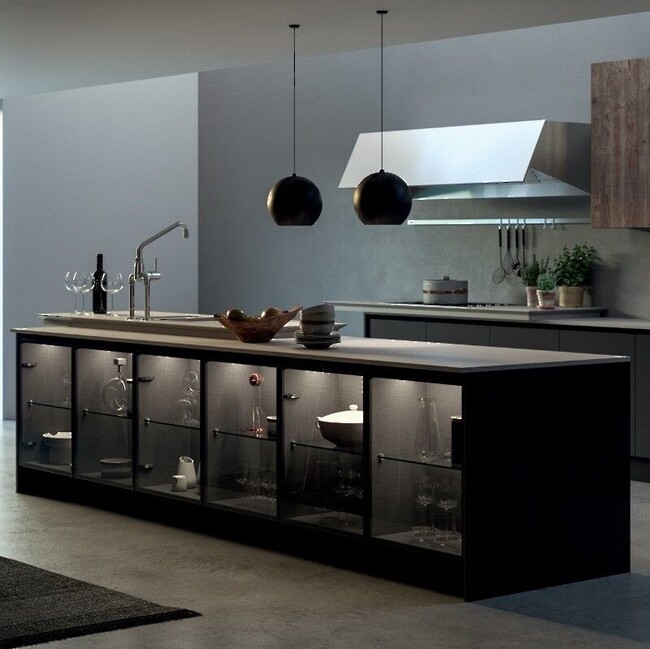 Both modern and contemporary style kitchens focus on minimalism and functionality. However, what is great about contemporary style kitchens is that they are added with industrial or traditional elements, this innovative amalgamation makes these kitchens stand out.
Design a contemporary style kitchen with these easy-to-remember 5 design elements:
Frameless cabinets
Frameless cabinets are noticeable in many contemporary kitchens. Aside from the seamless look they create, frameless cabinets offer more space than framed cabinets. It does not create a lip around the cabinet openings, unlike framed cabinetry -- this means you can easily store appliances inside these cabinets.
Simple and sleek hardware
Ornate hardware is not common in contemporary kitchens. A contemporary kitchen leans toward minimalism, thus, it features simple hardware. Cabinet handles, knobs, and pulls are usually made of smooth stainless steel and are often finished with nickel or chrome.
Up-to-date appliances
In a world where everything is digital and advanced, we also want to do things in our kitchen easier and faster. Today's kitchen appliances are not only functional they also come in sleeker appearance to match modern or contemporary kitchens.
A mix of different materials
A contemporary kitchen incorporates both natural and manufactured materials. Examples include wooden bar stools, stainless steel cabinetry, glass backsplash, and granite countertops. Man Made quartz countertops are also a popular choice for contemporary kitchens. It mimics the look of natural stone but without the extra maintenance requirements.
Pops of colour
While modern kitchens usually stick to monochromatic palettes, contemporary kitchens allow bold accent colors. This is a good choice if you want to personalize your kitchen and want to add a unique twist. A contrasting colour also creates a charming focal point without much effort required.
While contemporary kitchens feature minimalism, futuristic appliances, and the layered look, you can create your own by adding layers, different materials and color accent.
As the exclusive Canadian importer of ARAN Cucine cabinets, Nima Kitchen and Bath offers a wide range of contemporary Italian cabinetry including frameless cabinets for your dream contemporary kitchen. Call us now to learn more about what we can do for you!