Fall is almost always everyone's favourite season. It is associated with festivities such as Halloween, Thanksgiving, and other traditional harvest festivals that are all about bringing the family together to partake in one giant meal. If there is one place in the house to take on the Fall aesthetic, surely nothing is more suitable than the kitchen. Why not take some inspiration from the prettiest season and incorporate some of its signature aesthetic into your traditional or modern custom kitchen?
We say traditional or modern kitchens because we think both kitchen styles can perfectly complement the Fall aesthetic. Fall is marked by coziness, comfort, a little bit of spice, and everything nice—it is highly distinguishable by its luscious and warm palette, incorporation of naturalistic essentials, and boldness to play with vintage and traditional elements. Who wouldn't want a custom kitchen brimming with such irresistible charm?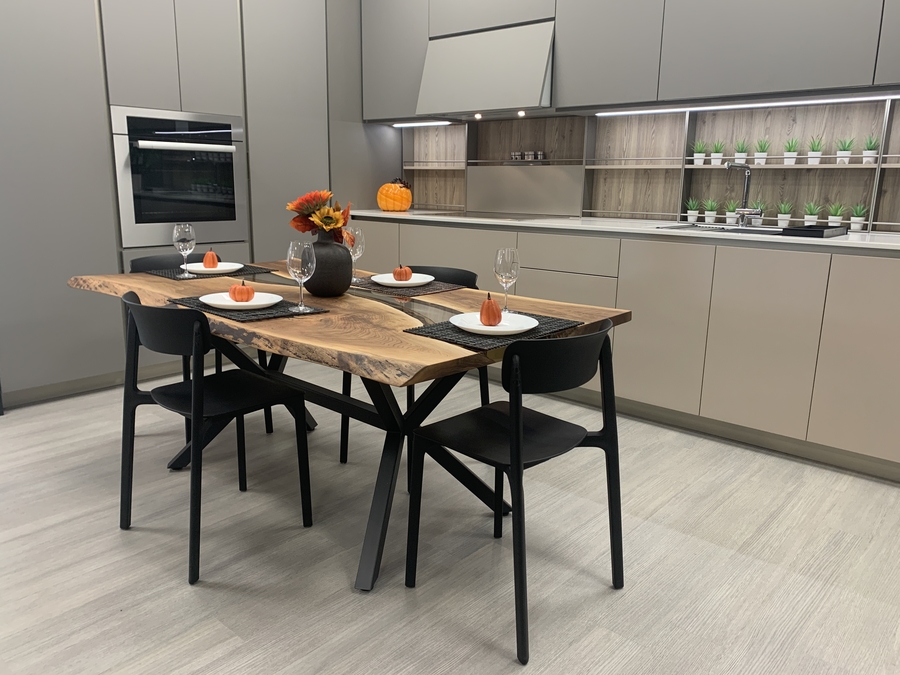 In today's blog, we discuss how to draw inspiration from the Fall season for your custom kitchen:
1. It is all about the colour palette.
The first step to mark anything as Fall-inspired is to ensure it has the right colour palette. We're talking about warm, earthy tones that comfort you like a good mug of hot chocolate, with just the right amount of pizazz to remind you of sizzling campfires and the burning red of the trees as they turn. A rich brown for your surfaces can be complemented nicely with muted reds and oranges for that dash of radiance. Neutral tones that draw from the colours found in nature, like grey or sand tones, also work gorgeously for smaller hardware fixtures.
2. Vintage is the future.
Fall-inspired décor has always embraced the rustic look. It has never shied away from repurposing old furniture or fixtures, converting them into something new and exciting. Your traditional or modern custom kitchen will surely shine with a vintage centrepiece or two. This kind of personalized approach to furnishing brings more of the homeowner's personality into a space instead of making it all about an aesthetic. Vintage pieces can be anything from utensil sets, glassware, and cookery sets, to whole cupboards, cabinets, and islands. Picking the right vintage piece for your traditional or modern kitchen shows an incredible amount of attention to detail and taste.
3. Stay close to the outdoors.
As temperatures begin to drop, opportunities for experiencing the outdoors decrease. Yet, Fall time features some of the best vistas: lakes shimmering with the reflections of multi-coloured trees, worn-out stone pathways covered in vibrant leaves… nobody wants to miss out on that! Perhaps this is why the Fall aesthetic is so keen on utilizing as many natural elements as possible. Using wooden fixtures and furnishings is the easiest way to execute on this design. Use wooden barstools, shelves, and islands to tie everything together. If you want to play around with different materials, you can use metals that have a more natural look, such as copper, nickel, and brass. Together, all these elements exude the rich and unbeatable aesthetic qualities of the outdoors while keeping you warm and cozy indoors.
These three tips are fine ways to get started on your ideas for a Fall-inspired traditional or modern custom kitchen. To take your ideas to the next level, consult the design experts at NIMA Kitchen and Bath today.