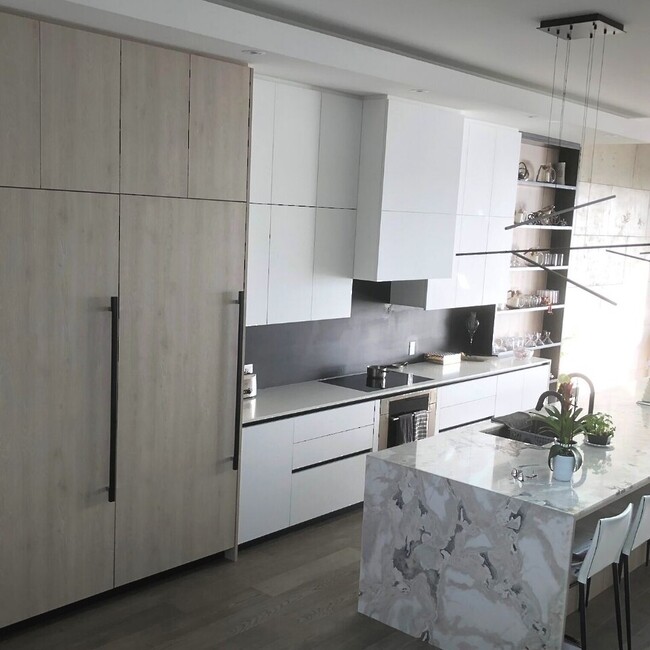 With spring cleaning in the air, a lot of people spend this time of the year renovating and upgrading their abode to make it more contemporary. Homeowners often choose to kickstart remodelling with either the kitchen or the bathroom. When revamping to build a modern style kitchen or bath, it's important to embrace contemporary vibes and personal aesthetics.
In this blog, we share tips to style a perfect modern kitchen.
Use sleek to reflect chic
Modern kitchens are all about the subtle details in design. To build an elegant kitchen, it's important to incorporate sleek elements into your remodelling plan. Be it utilities or kitchen lighting options, nothing should be missed while planning. For example, opting for deep drawer organization and pull-out storage over traditional cabinets would be a good place to start to capture a voguish vibe. Opting for frameless kitchen cabinets such as shaker cabinets or flat panel cabinets can deliver minimalism which plays a large role in modern style kitchens.
Don't forget a dash of bold
Minimalism shouldn't be confused with plainness, which is why a sprinkle of boldness could go a long way in perfecting the modern look. Adding some colour by introducing bright chairs or a vibrant painting would be the much-needed dab of drama to avoid making the space look drab. Bold does not always need to include more hues and it could be something as simple as using a butcher block, a quartz countertop, or a soapstone countertop, to ensure that there's no monotony in the kitchen design.
Embrace your personal style
A kitchen is often considered the heart of a home and hence, it should reflect your personality. This can be done by adding various knick-knacks such as your favourite flowers and paintings or displaying your treasured antiques and cutlery. If you decide to flaunt your collection of china, always remember that placement is key. In order to design an exemplary display, the most important thing would be the positioning, which works best in a more fluid pattern that complements the rest of the contemporary elements.
Strike a balance between natural lights and light fixtures
Contemporary kitchens are all about ditching the cluttered designs and exuding minimalism. One of the best ways to do this is by opting for monochromatic themes. However, even if you were to go with a different colour scheme, you can achieve a modern look by striking the right balance between natural and artificial lights in the room. Natural light can make a room look more spacious which is a crucial part of modern decor. Blending monochromatic themes with an abundance of light can help you perfect a modern-style kitchen.
These tips can help you design a custom kitchen that's not only modern but also to your liking. Nima Kitchen and Bath is well-known for its top-tier kitchen design projects. Contact us today to learn more about everything that we can do to help build your dream kitchen.