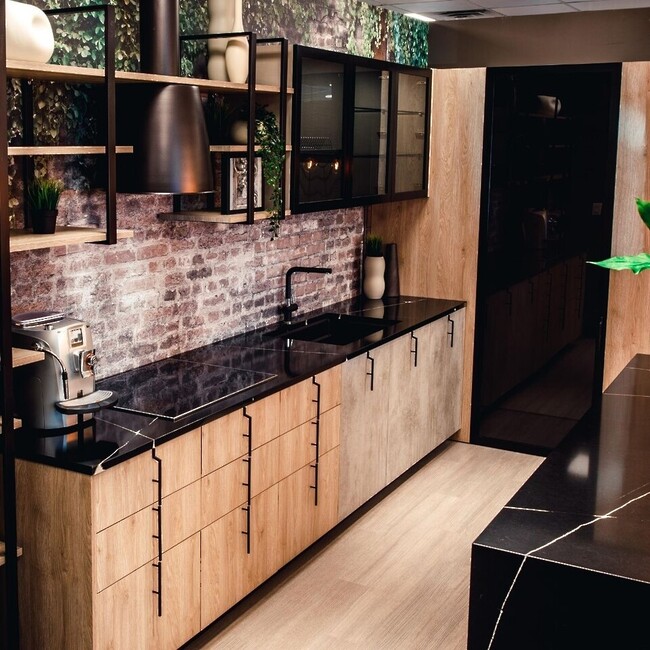 Black can be a designer's best friend or biggest adversary. It is an incredibly versatile shade, bringing drama, elegance and a big dash of personality to any interior space. It has become increasingly popular in custom kitchens as well, being used as an accent tone or even the overall theme. However, some homeowners sometimes fall into the trap of using too much black or misusing it, which has the potential to overwhelm a space and bring an unwanted sense of coldness and gloom.
Indeed, designers have to approach this colour with a gentle hand in order to maximize its potential without overusing it. As homeowners start to embrace the possibilities that come with being more daring and bold with their colour palettes, they will need the helping hand of professional designers in order to properly apply these tones to their custom kitchen.
Here Are Some Ideas on How to Use Black in Your Custom Kitchen:
1. Unify Your Cabinets
Cabinets are arguably the biggest focus of any kitchen. If your intention is to be bold, why not go all the way and colour all your cabinets black to give it that seamless, hyper modern look? There are many options to go with this. A solid black tone can work for futuristic and minimalistic spaces, especially when paired with the right kind of cabinet material. However, homeowners who prefer more of a balance can still opt for a wood pattern but have it tinted or coloured in a dark, almost black tone. This allows you to capitalize on the style points offered by darker tones while still keeping the overall vibe of your kitchen warm and welcoming.
2. Identify Your Centrepieces
Another really effective way to use black in a custom kitchen is to confine its use only to accent pieces. First, you will need to identify a couple of standalone elements in your kitchen that you want to highlight. A kitchen island, hutch or prominent range hood are all stellar candidates. Alternatively, you can opt for all-black appliances while keeping everything else in your kitchen a different tone. The key to pulling this off is to match the rest of your kitchen's colouring with your black centrepieces. The good news is that black is an incredibly versatile colour and can work really well with naturalistic tones such as greens and browns as well as stark colours such as white, but you will need to exercise control and avoid layering too many different clashing tones in your custom kitchen.
3. Accessorize Accordingly
It is a universally accepted design principle that black is the easiest colour to accessorize with, whether you are working in fashion or with custom kitchens. Black is plain but stylish, simple but bold. Its elegance is something you should use to your advantage, and accessories that build on this should be incorporated into your kitchen. If you want the black to pop, consider using it in the baseboards and handles of a lighter tones kitchen. There are two ways to think about accessorizing a black custom kitchen: complementing and contrasting.
Complementing: gold and brass are tones that are considered complementary to black. Wherever you have used black, such as in your cabinets, use gold or brass hardware.
Contrasting: on the other hand, white is considered a favourable contrast to black. Some of the most popular usages of white is in white marble or quartz countertops, contrasted with black cabinets.
Whatever style you want to go for: farmhouse, modern, traditional, contemporary… black is an easy colour to work with. Let the experts at NIMA Kitchen know your vision and we will do our best to help bring your dream custom kitchen to life.