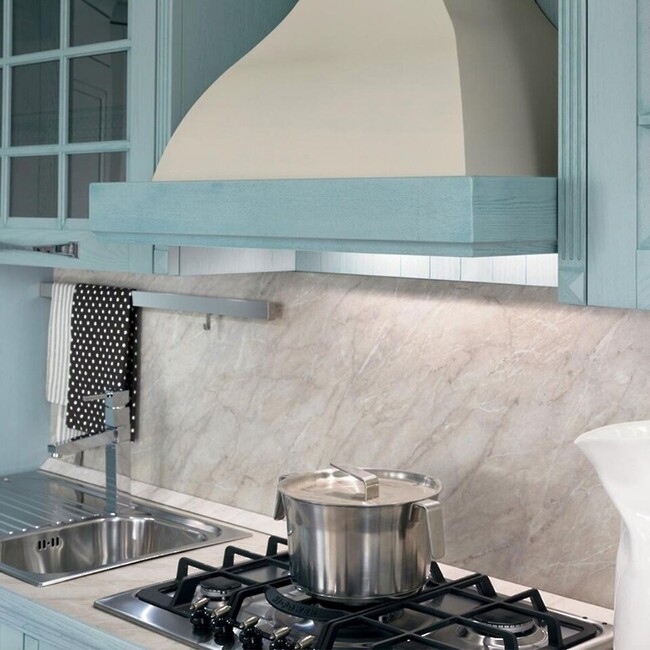 Pastel colour palettes for custom kitchens have gone in and out of trend over the years. However, pastel aficionados don't let trends dictate their design desires. With these lighter, brighter and more cheerful colours, you can unleash your creativity and truly express your personality.
One of the key characteristics of pastel colours is how understated they are. Unlike super bold and opaque tones, pastel tones are highly unlikely to overpower the other aesthetics in your custom kitchen. With that said, they should still be tastefully applied and can couple well with neutral tones like white or black and simple wood grains. Because of their lighter tones, pastel colours can usually go well with almost any style of kitchen, including both traditional and modern designs.
Today, we share some ideas on how to get the perfect pastel custom kitchen.
1. Blue Serenity
Blue is almost always seen as a calming shade, and this effect is even more amplified in its pastel form. If you're a little apprehensive about colour, blue is a good compromise especially since darker pastel blues share a lot of similar tones with grey. Pastel blue is a great colour choice for coastal-style kitchens, especially when paired with white and wood materials. Some contemporary design elements such as woven baskets and metal wire decorations will further enhance the aesthetic.
2. Sunny Yellow
Yellow is another popular option for a mild pastel colour. While blue is calming, yellow is cheery and sunny, and its brightness can really help open up a room. With this bright and cheerful aesthetic, a custom kitchen utilizing pastel yellows can greatly benefit from the inclusion of floral decorations and pieces. Other warm materials and colours will serve as great complementary elements, such as wooden counters and islands.
3. Sassy Green
Green is not usually a very popular high, but it is actually an incredibly elegant shade that can work well for many custom kitchen styles. The most popular type of pastel green is mint green, a much lighter and cooler tone. This shade can uplift any space and add an instant dash of uniqueness and quirkiness that is perfect for homeowners with more unconventional tastes. Lean into the green look by adding leafy plants around the kitchen and installing a good number of windows in the space. You'll end up having a kitchen that looks like a conservatory, especially if you pair these elements with some interesting tilework.
4. Pink Paradise
This is perhaps the boldest choice for a custom kitchen, but it pays off. Pink is arguably most palatable in its pastel form, pairing especially well with creamy white tones and even other pastel shades such as baby blue. This shade can help bring a more feminine aesthetic, and you can even experiment with more retro, 50's styles for a nostalgic yet fun look. Pink is also surprisingly versatile, being able to pair quite well with more luxurious styles. The use of gold elements and marble surfaces together with pink can invoke a Rococo aesthetic for homeowners with expensive taste.
These pastel ideas can help elevate any custom kitchen, bringing more unique aesthetics to the table. If you're looking to experiment with colour, you will need the guidance of experienced design experts. Consult the designers at NIMA Kitchen and Bath and let them know your ideas for your dream kitchen today!