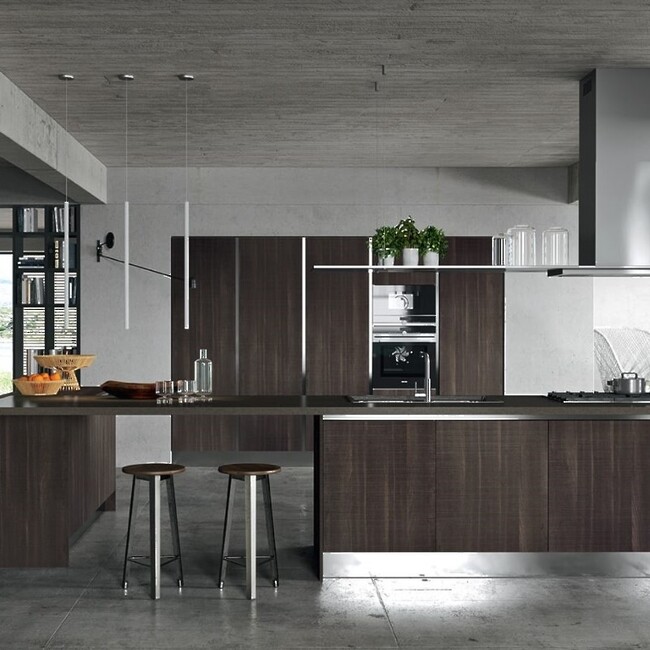 European design has a long-established reputation of setting the trends globally. It is no surprise that European kitchens have been the rage for a long time, with many designers and homeowners seeking to emulate the sleek style, focus on functionality, and cutting-edge originality. At NIMA Kitchens, we are partnered with renowned cabinet manufacturers Aran Cucine, specializing in Italian-style designs that help elevate that tried and true European kitchen look.
In today's blog, we will be discussing all the key elements of a European kitchen:
1. Sleek and Simple Cabinets
Cabinets in a European kitchen feature minimalist-style cabinets, unlike the adorned and intricate styles used in traditional kitchens. These cabinets adhere to cutting-edge design principles, featuring unique and modern elements such as flat surfaces and little to no hardware. This stripping down of the cabinetry allows the entire kitchen to have a unified and harmonious look, allowing each design element to transition seamlessly from one to the other.
2. Colour Combinations
In line with a more modernist approach, European kitchens are not afraid to utilize pops of bold colour. European-style designers are very intentional with how they select colour for anything from cabinet surfaces to appliances. The selection of cooking accessories such as blenders, mixers, and more are also integrated into the design process to ensure that every element of the kitchen has been carefully considered.
3. Function-First Lighting
In order to not clash too much with its more minimalist leanings, European kitchens tend not to adopt flashy or grand lighting. Lighting fixtures tend to be simple and original methods of concealment are used to hide lighting fixtures under cabinets or surfaces. The goal is to ensure that the visible lighting fixtures complement the overall feel and look of the kitchen instead of standing out as a separate design piece.
4. A Perfect Space for Gatherings
European-style designers want to ensure that the kitchen space can also serve as an ideal location to host guests. Dining areas are sometimes incorporated into the kitchen itself, and if not, the kitchen is equipped with an island that is suited for dining, instead of just being a space to prepare food. Large windows surround the kitchen area, providing guests with idyllic views while they are being entertained.
Designing a European kitchen is a holistic process, and good designers will ensure to only source the best fixtures and furniture for your kitchen from renowned manufacturers who can guarantee quality and durability. For more information on kitchen design, check out the NIMA Kitchens website and blog!