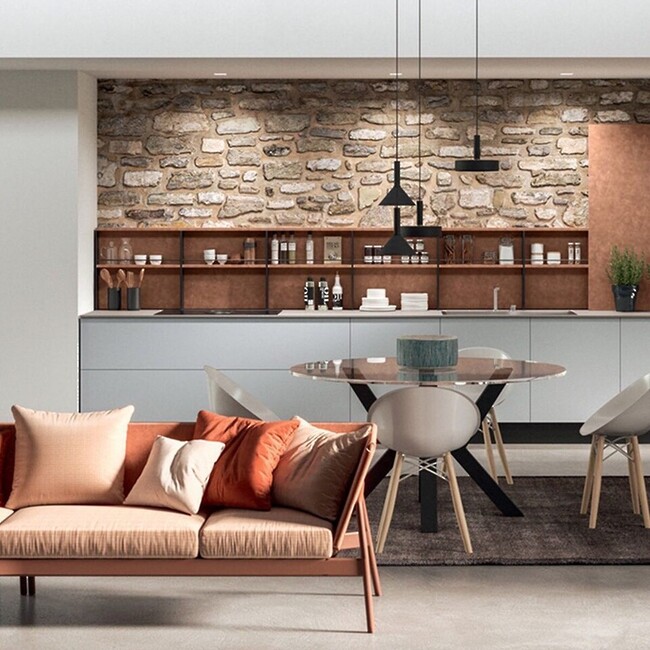 Modern interior design is setting the standard for contemporary homes, popularizing cutting-edge technology, creative use of space, and unique material-mixing. The key to a beautiful modern home is a contemporary kitchen and bath. These elements set important impressions of your home, being some of the most critical areas of a home that are shared by your guests.
Today, we will go over the characteristics of a contemporary kitchen and bath.
The terms contemporary and modern are not totally interchangeable. The important thing to note is that contemporary design borrows heavily from modern sensibilities of design, valuing simplicity and creativity, striving for unique looks that set homes apart. Here are the elements of a contemporary kitchen:
1. Technologically advanced appliances:
a modern home is not truly complete without its fair share of advanced appliances. Designers prioritize durable appliances with a wide variety of functions, with aesthetics that add to the overall sleek look of a contemporary kitchen.
2. Material-mixing:
instead of relying on intricate designs and detailed patterns the way traditional kitchens do, contemporary kitchens achieve aesthetic variety through the use of material-mixing. Wood and stone are popular choices, bringing a naturalistic feel to complement the simplicity of a modern design.
3. Minimalistic lighting:
grand chandeliers do not necessarily fit into the look of a contemporary kitchen. Consider lighting fixtures that are more minimalistic, or that woek with the other elements in your kitchen in a creative way. For instance, spotlights can be installed underneath islands or cabinets, creating a bright aura and natural-looking light.
4. Attention to detail:
since much of a contemporary kitchen's design tends towards minimalism, designers frequently save the most attention-grabbing details for smaller fixtures such as backsplashes. Do not be afraid to experiment with colour and patterns, utilizing glass, mosaics, or ceramic pieces.
Next, let's talk about contemporary bathrooms. You can easily match the aesthetics or themes of your contemporary kitchen and bath to create more a transition. The essentials of contemporary design remain much the same for bathrooms as they are for kitchens, prioritizing creative material usage and seamless shapes.
1. Experiment with shapes:
the smaller area of a bathroom gives you the opportunity to play around with shapes, maximizing space efficiency and playing around with the illusion of space to create more open areas, or aesthetically-pleasing geometry.
2. Seamless lines:
together with the established shapes in your bathroom, you can use lighting fixtures to emphasize lines and create an interesting ambience. Both contemporary kitchens and baths benefit from simple lighting fixtures.
3. Walk-in showers:
curbless or walk-in showers complement the modern look perfectly. This kind of design plays into the whole seamless nature of modern design, emphasizing openness and an easy flow from one thing to another. If curbless or walk-in showers are not your thing, consider a fully-glass walled shower to mimic the illusion of seamlessness.
4. Next-generation bathroom tech:
today, advances in technology allow homeowners to enjoy the best luxuries in their bathrooms. Toilets can now come with a variety of functions, promoting cleanliness and convenience. There is also a wide variety of showerheads, baths, and other bathroom appliances providing a plethora of functions for your benefit.
With these guidelines for designing the best contemporary kitchens and bathrooms, your home will boast the finest aesthetics paired with cutting-edge technology. Contact the experts at NIMA Kitchen and Bath today to learn about what we can do for your dream home.