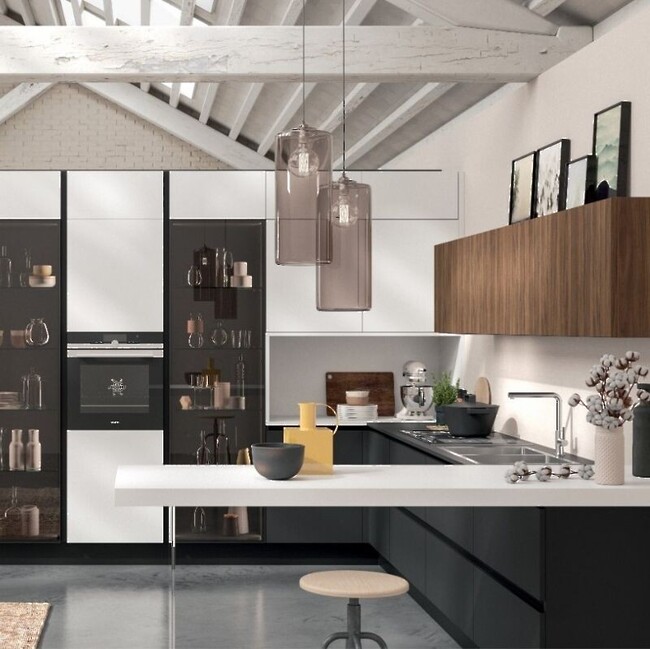 Now that we are spending more time than ever in our homes, it might be a good idea to renovate or redesign your kitchen. Whether it's a modern or traditional kitchen, you should always invest in the help of professionals to ensure that you get the optimal results you want. Nima Kitchens will help you with custom kitchen design and manufacturing to ensure you get the kitchen of your dreams! To get started, here are some trends to look for in 2021:
Colourful Kitchen Designs
In the past few years, many kitchens have been designed with beautiful neutral tones and materials. These neutral colours have been the popular choice for many kitchens as they were established to be chic and classy. Although this is true, a pop of colour can really make your kitchen stand out while still bringing an elegance to your home. You can incorporate some colour with some coloured cabinets or countertops. If you are really unsure, you can consult with kitchen designers like Nima Kitchens, who can help you choose the right colour palette for your kitchen.
Clean Lined Cabinets
In many homes, cabinets are designed with intricate details and handles of different materials and colours. A trend that has been popular lately are minimalistic cabinets with clean lines, minimal hardware or a touch-release closure. This feature will make your kitchen look more modern and sleek.
Smart Storage
Having a designated space that can store various things such as ingredients, cooking equipment and kitchen supplies, will help keep your kitchen organized and make items easier to find. Consult with your designer to create a functional and spacious pantry that can store all your items and reduce clutter on your countertops.
Unique Lighting Designs
With a well-lit kitchen, your space will feel spacious, bright and welcoming. Something that has been recently popular in custom kitchen designs is unique lighting fixtures. This can help your kitchen stand out and will be an excellent conversation starter!
These are only a few trends to look out for in 2021. For more trending ideas and designs, work with dependable kitchen designers such as NIMA Kitchen & Bath. For all your custom kitchen design and manufacturing needs of traditional and modern kitchens, call us today!