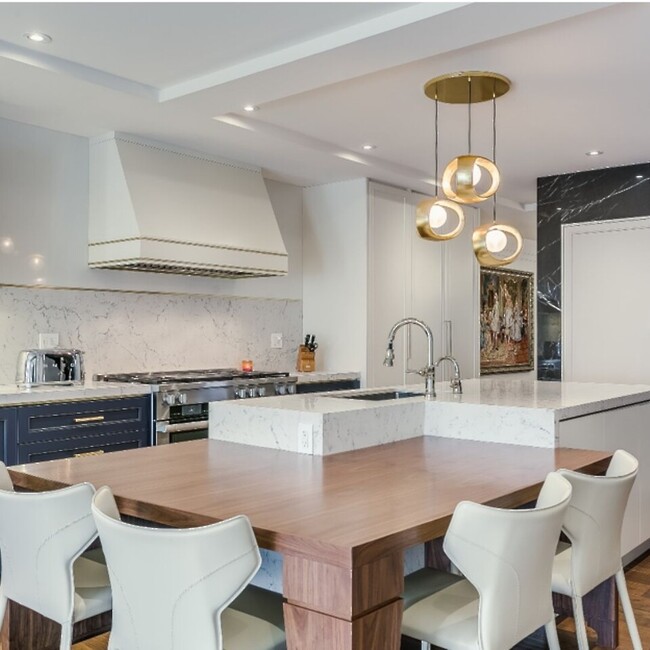 Modern kitchens are the epitome of utility and aesthetics. Be it a compact space with integrated appliances or an expansive open-plan kitchen, their appeal is unmistakable. But when it comes to entertaining guests, kitchens take a backseat. However, your beautiful kitchen can become the life of the party by incorporating these 5 elements.
5 Design Elements to Add for Entertaining Guests.
Embrace The Dining Room Aesthetic
Instead of separating the kitchen and dining room, combine the two together. Elevate your cabinets, and add mood or statement lighting over your island. Alternatively, try out luxe lighting in the form of oversized pendants or chandeliers. If possible, open the space to add more seating for a banquet-style kitchen. Finish the classy look with concealed appliances and you have the perfect space for entertaining guests.
Sleek Is Chic
While rustic kitchens have their own appeal, a sleek kitchen space inspires a sophisticated vibe. Moreover, it is a perfect companion for creating a guest-friendly space. Opt for integrated major appliances such as a refrigerator, range cooker, or oven. Choose sleek, custom cabinetry to store away smaller appliances like toasters and coffee makers. In this manner, you can maintain a sleek, seamless countertop and kitchen.
Say Cheers With A Wet Bar/Wine Cooler
Indulge your guests further with a built-in wet bar. Make a statement with a bespoke beverage center with cabinetry to hold glasses and bottles, an integrated wine cooler, and a separate sink. Make sure to keep the wet bar separate from the kitchen work triangle to avoid any disruptions during your get-together.
Bring The Party To The Kitchen
If you want to be the perfect host, modern creature comforts are a necessity in a kitchen. If possible, install a television to bring your guests together. Alternatively, built-in speakers set the perfect mood for a party without ruining the aesthetics. At the minimum, an integrated charging station will keep your guests satisfied.
Raise The Bar With Raised Countertops
If you are preparing a feast for your guests, consider raised countertops. Add them to your kitchen island to conceal any used dishes in the sink. Cook and clean without worrying about making a mess and still being the center of attention. The raised countertops can also double as a gathering spot or breakfast bar at the other end.
Add these 5 elements to your elegant kitchen and entertain the guests to your heart's content.
For more tips on creating a chic, guest-friendly kitchen space, reach out to us at NIMA Kitchen and Bath. A major kitchen and bath manufacturer based out of Toronto, our expert professionals will help you fashion the kitchen of your dreams.