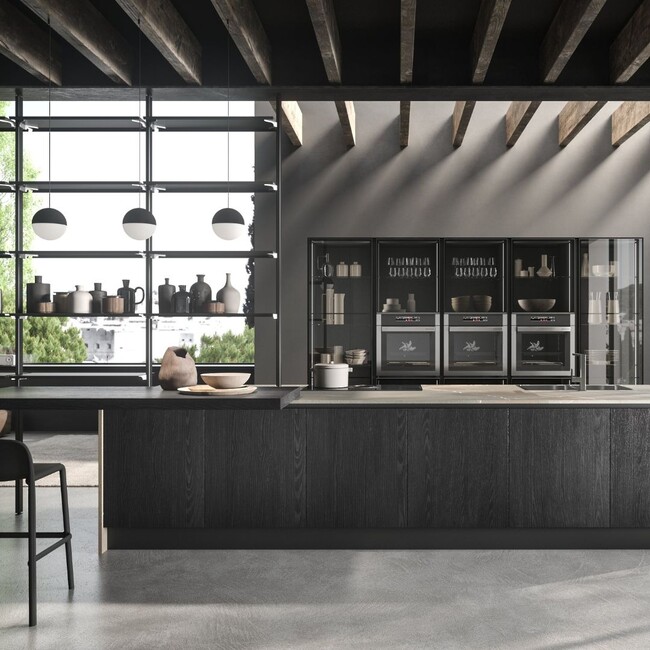 From discrete simplicity to versatility, the benefits of open shelving are manifold. However, when comparing them to upper wall cabinets, how well do they fare? Here is a detailed look at the pros and cons of both for the quintessential custom kitchen.
Comparing Open Shelves And Cabinets
Pros Of Open Shelving:
Grab Dishes On The Go
Easily access everyday-use items like dishes and cookware with open shelving. Organize them at your convenience and make your kitchen workflow efficient and enjoyable.
Showcase Your Walls Too
Do you have wood-paneled walls in your custom kitchen? Or perhaps backsplash tiles extending to the ceiling? Highlight their colour and beauty with open shelving. Add vibrantly hued items to complement or contrast with the wall. Alternatively, add seasonal decor to your custom kitchen with open shelves.
Minimalist Aesthetic
A minimalistic aesthetic fits well in both contemporary and traditional kitchens. Embody this trend with open shelves without compromising on elegance or creativity.
Cons of Open Shelving:
Maintenance Can Be A Hassle
Since open shelves are exposed, it can be challenging to keep them clean. Be meticulous with cleaning open shelves to keep them aesthetically pleasing and functional at all times.
Creativity Can Turn Into Clutter
Unless you follow some pre-set decor ideas and layouts, going too creative with open shelves can ruin the clean and minimal look you want. Your open shelves can end up looking cluttered and unorganized, something you must avoid.
Pros Of Upper Wall Cabinets:
Versatile Design Choices
If you like different choices and styles for storage, kitchen cabinets are an excellent choice. Be it shaker-style cabinets or something bespoke, the colours, storage space, cabinet doors and accessories offer a lot of room to experiment.
Cleaning Is A Breeze
As a kitchen cabinet manufacturer in Vaughan, we highly recommend upper wall kitchen cabinets as wiping them and keeping them clean is simple.
Conceal Any Clutter
Keep your kitchen neatly organized by concealing any clutter using kitchen cabinets. Apart from regular clutter, hide away any oddly shaped or mismatched items so they don't ruin the design scheme of your space.
Cons Of Upper Wall Cabinets:
Inevitable Wear And Tear
Cabinets have many moving parts, such as doors, hinges and drawers. Even though they generally last long before the first signs of wear show up, they are still bound to wear and tear over the years. This might require maintenance and repair, which is a scenario unlikely to happen with open shelving.
Falling Short On Space
Because of doors, cabinets can be limited in terms of storage space. So if maximizing storage is a priority, then you might have to rethink your kitchen cabinets.
Conclusion
To sum it up, both open shelving and wall cabinets have their own sets of advantages and disadvantages. The ideal solution for most is to combine the two styles to create a space that is stylish, versatile, spacious and easy to maintain.
Need more ideas on how to style your custom kitchen? Reach out to us at Nima Kitchens today. A premier kitchen cabinet manufacturer in Vaughan, our experts will help you make the right choices in layout, colour palette, finishing and more.