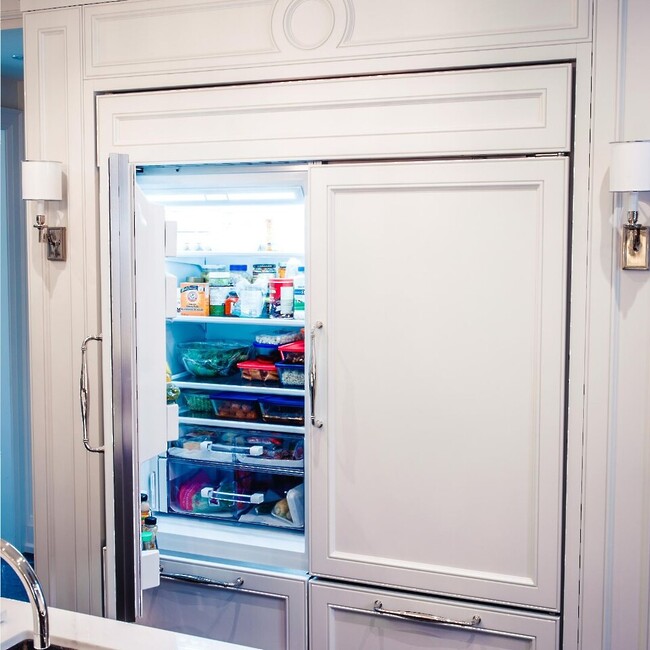 When it comes to integrated appliances, ovens and range cookers first come to mind. They can add a sleek, seamless look to any kitchen space. But did you know you can integrate your refrigerator too? Known as a panel-ready refrigerator, these custom-built appliances are a perfect addition to any modern or traditional kitchen design. Explore their pros and cons to see if they are the right choice for you.
Should you install a panel-ready refrigerator?
What is a panel-ready refrigerator?
Panel-ready is a term manufacturers use to define an appliance with a panel on the front matching the surrounding decor. This creates a seamless, integrated look where the refrigerator looks like part of the cabinetry. You can maintain a certain aesthetic in your kitchen space without breaking the vibe.
Why choose panel-ready refrigerators?
Maintain A Sleek Vibe
As mentioned above, adding a panel-ready refrigerator is an aesthetically-sound choice. An appliance with a dark-stained wood panel upfront perfectly blends in with the surrounding cabinetry of a similar colour scheme. This will help you maintain the sleekness of your kitchen space.
Sophisticated Look, Affordable Price
Surprisingly, many panel-ready refrigerators cost the same as their regular, premium, counterparts. So if excessive features aren't appealing to you, opt for a panel-ready appliance at a decent price. It will also not look off-putting in your elegant decor, unlike a stainless steel fridge.
Beautiful And Timeless
Create a timeless look for your kitchen space by adding a panel-ready refrigerator. They require minimal upkeep compared to stainless steel fridges. So ideally, you need to reinstall a new one only if you are giving your cabinets a makeover.
Boost Your Home's Marketability
This upgrade is also beneficial in terms of home resale value. Elevate the decor of your kitchen space with a well-crafted, panel-ready refrigerator from a reputable company and attract prospective buyers.
Why avoid a panel-ready refrigerator?
Reduced Utility
An integrated look is appealing. However, in terms of utility, panel-ready refrigerators may not be as adept as traditional ones. A shallow, panelled fridge can create storage issues for you, especially if you maintain a packed fridge. So avoid them if space constraints are a deal-breaker.
Can't Plug-In And Use
A traditional fridge can be plugged into a socket and used straight away. A panelled fridge requires major changes in your cabinetry. You have to create some space in your kitchen design to accommodate this built-in fridge. Apart from a significant makeover, it also requires expert technicians to install, shooting up the overall cost of purchase.
Damages Can Be Deadly
Timeless as they are, panelled fridges will face repairs or damages after a couple of decades. Unfortunately, customized parts for built-in fridges are hard to find. You may have to replace it with a new one altogether to maintain the seamless look.
So weigh in the pros and cons carefully before making a decision. Panel-ready refrigerators can be a great addition to your design scheme if you are aware of these aspects.
Looking for a custom kitchen design for your home? Reach out to our experts at Nima Kitchens to fashion the kitchen of your dreams.