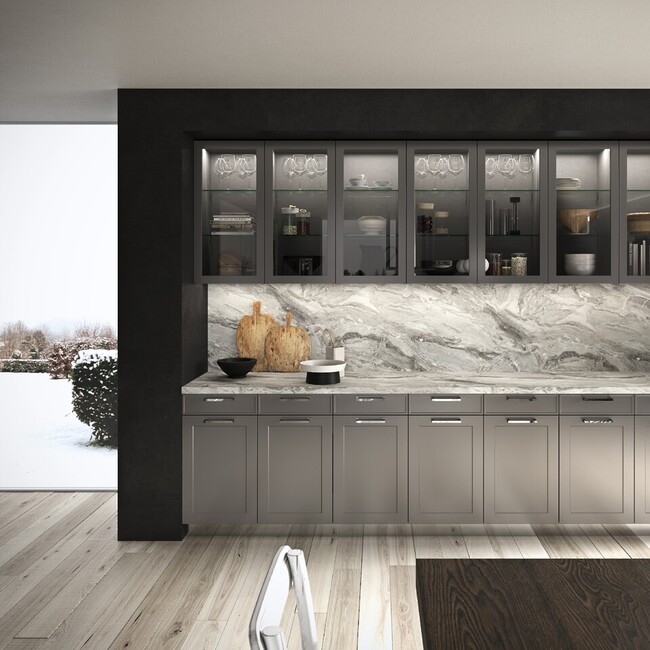 For many people, the arrival of the cold season can bring on the winter blues. With people more likely to cozy up at home, it is vital that your indoor space brings you joy and keeps your spirits high. This is why custom kitchens are so popular--homeowners and designers alike have realized the importance of the kitchen as a key area in the home, where people are likely to come together and spend a lot of time in. It needs to be designed meticulously to fit the homeowner's aesthetic preferences and personality.
This winter, make sure your custom kitchen is designed to lift your spirits and make all that extra time spent indoors worthwhile.
1. Add Some Colour
One of the best ways to counter the drabness of winter is to add pops of colour to your kitchen. Bright tones will revive the energy of any space and keep the mood of the room upbeat. Complement colourful cabinets with the use of colourful appliances as well to add a splash of modernism. You don't have to go all the way either--you can still utilize neutrals in your colour palette, but make them brighter and stand out more through the strategic use of glossy finishes.
2. Mix Up Materials
A potential downside of winter is how everything outside starts to look the same, though we can't really blame nature for doing its thing. We can, however, do our own thing in our homes! Mixing materials and making the most of different textures can do a lot to spruce up a custom kitchen. Contrast the bleakness of winter by bringing in more naturalistic materials to your kitchen such as wood and by using rich grains for your surfaces, or level up your backsplashes by using marble tiles or stone slabs.
3. Be Proud of Your Plants
Lush greens are always missed during wintertime, but especially during long Canadian winters. One of the best ways to beat the winter blues is to fill your home with plants. The kitchen should not be left out. Plants work wonderfully in a kitchen environment and can complement naturalistic materials particularly well. These little signs of life can do a lot to brighten up a person's day and brighten up the aesthetic of your custom kitchen.
4. Light It Up
A common complaint many people have about wintertime is how little daylight we get. The good news is that clever lighting in your home can help you maintain brightness indoors and beat the winter blues. A common mistake many homeowners make is to leave lighting design to the very last minute. However, lighting is actually an immensely important aspect of custom kitchen design and should be a consideration that is front and centre of your design aspirations from the beginning. A well-lit kitchen, especially during the wintertime, will become a place many people will want to congregate in. An extra dose of light can bring much-needed warmth even when snow and ice pile up outside.
Of course, there are also many people who are in love with winter and want to channel its aesthetic in their homes and custom kitchens. Stay tuned next week for tips on how to infuse your kitchen with a wintry aesthetic.