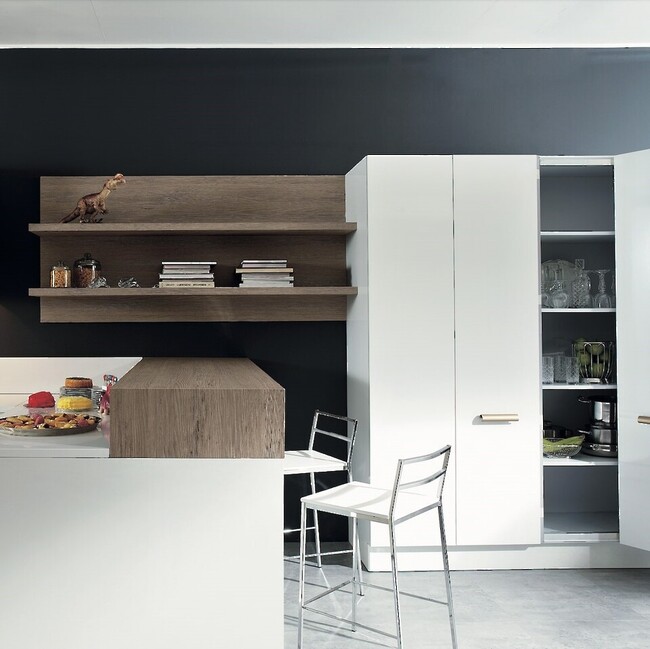 One of the main reasons modern kitchens are so popular is because they reduce clutter and present more options for creative storage solutions. With clean lines and modern cabinets and appliances, there's always room to spare and ways to keep your kitchen neat and tidy.
In today's blog, we will be sharing some unique storage ideas for your modern kitchen.
1. Roll-Out Drawers
Cabinets are excellent fixtures for storage, but they can suffer from a lack of organization. Cabinets may have ample space, but that does not mean you can fully benefit from their storage capacity without implementing some clever organizational fixtures. Roll-out drawers can be installed inside cabinets, keeping your items hidden away and giving you more options on how to organize and access your items.
2. Rotating Platforms
Rotating platforms, also called spin-arounds, can be installed in cabinets. This open concept allows you to view your items easily, and the spin-around mechanism makes it easy to sort through them and pick things out. It is also incredibly easy to clean and maintain.
3. Tip-Out Trays
Sometimes, countertops can have small, unused spaces with no functionality, which is an inefficient use of space. Why not install tip-out trays? They can be fit directly under a sink or main countertop, allowing you to quickly access relevant items in a pinch.
4. Get the Right Wine Rack
There are many different types of wine racks, suitable for different kinds of households. One of the problems homeowners encounter is selecting a wine rack that does not fit their usage. Some wine racks can hold up to 40 bottles. This may seem like an appealing choice at first, but can become a waste of space if you do not actually need that much storage for your bottles. On the other hand, a wine rack that is too small can create problems, as your extra bottles will start cluttering up other areas of your kitchen. The good news is that wine racks are incredibly easy to dismantle or install.
5. Open Shelves
This is a storage solution that is particularly suitable for the aesthetic of modern kitchens. Indeed, modern aesthetics place a high priority on functionality, and open shelves provide that by making your most important items easier to access.
In addition to these, there are a plethora of other solutions to incorporate in your kitchen. A full design consultation with the experts at NIMA Kitchens will include plotting out creative storage solutions, whether it be for a traditional or modern kitchen. Call us today to learn more about what we can do for you!