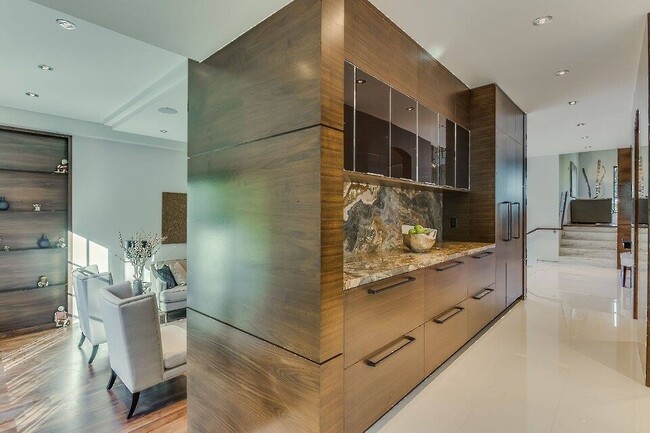 Cabinets are a significant factor in the look of your custom kitchens. While cabinet design, colour, and hardware are important, cabinet material is also crucial to rounding out your aesthetic. There are a number of different materials commonly used for cabinets, and in today's blog, we will provide an overview of these materials.
Here are the variety of materials you can use for your cabinets in your custom kitchens:
Wood
There are key distinctions between solid wood materials and MDF, particleboards, or other wood alternates. If you are looking for a material that is fully natural and not a composite using adhesives to achieve a wood-like aesthetic and feel, then you need to make sure to be clear with your manufacturer. Popular options for wooden cabinets include maple, pine, cherry, and oak, each with their own distinct quality, providing a naturalistic, rustic, and traditional look for to your custom kitchen. Typically, finishing options can be provided, allowing you to further customize the tone of your cabinets.
Wood Alternates
Particleboards, MDF, and plywood are the three most common variants of wood alternates. They are preferred for their lower cost and ability to simulate solid wood. Particleboards are made from wood particles and chips that have been compressed to form panels and boards. They have to be covered in a veneer, laminate, or thermofoil, which can then be painted different colours. MDF is just like particleboard, except it uses wood fibers. Plywood, on the other hand, is made from thin slices of wood called piles that are bound together in layers. Plywood can be easily confused with solid wood constructions as they are commonly referred to as "all wood," which is a term used to describe an all plywood construction or a construction utilizing a combination of solid wood and plywood. Unlike MDF and particleboards, plywood constructions do not require veneers, laminates, or thermofoil surfaces. Wood alternates will always be the more economical option, and if you want a nice balance between your budget and your desire for a more natural aesthetic, plywood is a good choice.
A Note on Thermofoil, Laminates, and More
Many modern custom kitchen designs are able to make the best of wood alternates or plastic materials nowadays. These materials and finishes fit perfectly with the aesthetic of modern kitchens and are more economical. Thermofoil is a vinyl film that is used for engineered wood products, providing an additional layer of production and allowing you to further customize the look and colour of your cabinets. Laminates are similar, though they are a plastic product made from polymer resin and paper. They are loved for their easy-to-clean properties. P.E.T., or polyethylene terephthalate, is a thermoplastic polymer, very similar to conventional laminates and are known for their heat and moisture resistance.
Choosing the Right Material
As you can see, you have many options when it comes to cabinet materials. When designing your custom kitchen, you already have so many factors to mull over. Think about the overall aesthetic you are going for and which materials will complIment the look best. Then, consider your budget and other needs such as whether or not you require additional protection through the use of laminates, thermofoils, and more. The best course you can take is to consult extensively with custom kitchen designers like those at NIMA Kitchens. Our experts will always keep your overall goals and aesthetics in mind when helping you select the right materials for your cabinets, islands, countertops, and more.
If you are looking to get a custom kitchen, make sure to contact NIMA Kitchen for the best design consultants and imported kitchen sets and fixtures. Check out our website for more information!