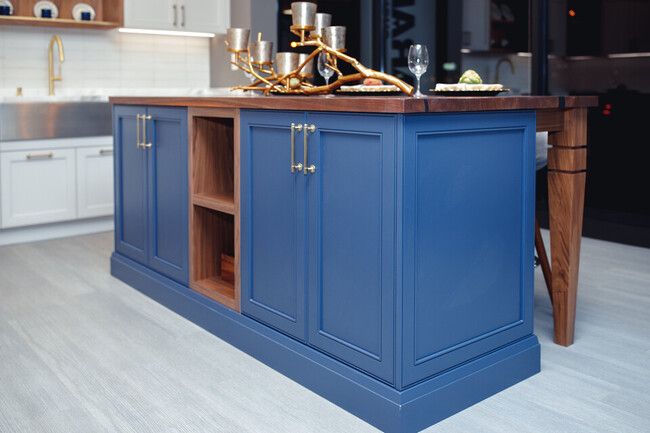 Your kitchen presents an opportunity for you to further expand upon the aesthetic of your home. This room is one of the focal areas of a home, and how well you keep your kitchen will reflect on the rest of your living space. Aside from getting the right cabinets, islands, appliances, and more, you also need to decide if your kitchen will be a traditional kitchen or a modern kitchen. After that, you will need to select a suitable colour palette.
While white kitchens have been very popular in recent times, people are starting to move away from the safe and limiting potential of a white colour palette, especially for modern kitchens. Brighter colours, especially blues and greens, are currently making a splash, riding the wave of trends that prefer naturalistic yet bold aesthetics.
Here are some colour trends to keep in mind to help you make a decision for your kitchen!
1. Greens
Bluish-green: this is a nice compromise if you're having difficulty deciding between green or blue as your primary colour. They look best in modern kitchens, and the entire spectrum of hues will be able to give your kitchen a different feel.
Mint green: this colour is much bolder than the previous one, and can work wonderfully with more vintage or retro-style kitchens. It can even work with modern kitchens if you accessorize appropriately.
Sage green: this colour has a more naturalistic and simplistic vibe, ideal for more minimalist designs. Due to its more subdued tone, it can be easily paired with other light colours such as beige.
Olive green: this is typically a much darker tone compared to the rest. Due to its darker shade, it can be incredibly versatile and work well in both traditional and modern kitchens. It exudes sophistication and can be paired beautifully with brass or copper appliances and hardware.
Apple green: this is perhaps the boldest colour in this category. It has a cheerful and sunny vibe that can pair well with more naturalistic spaces that make use of other bright colours.
2. Blues
Pastel blue: you can never go wrong with pastels! These sweet colours bring a soft and welcoming vibe to any kitchen, and it can be paired well with other subdued tones such as greys.
Navy blue: also known as nautical blue, this colour is well-suited for nautically-themed homes or kitchens that want to exude a seaside or lake house vibe. There are lighter versions of this colour, though it is typically dark. It can be paired extremely well with white tones.
Turquoise: this colour is light and joyful, and can be perceived as being similar to pastel blue though it is much bolder. It works incredibly well with retro, 50s or 60s-style kitchens.
Indigo blue: like apple green, this is probably the boldest colour in this list. This can be a bit of a tricky colour to work with due to how much it stands out. If you are considering this colour, lean in and be as bold as possible! Pair it with yellow decorations or stark whites, or opt for a quirky, futuristic look.
3. Combinations
You don't always have to settle for a specific colour either. If you're more of a creative risk-taker and want your kitchen to unique and personalized, try working with colour combinations. Colour palettes often do not only consist of hues of the same colour, but can also combine two or more complementary colours. This is especially suitable for modern kitchens, as modern designs are a lot less tied to conventions. For instance, a modern kitchen could easily pull off a naturalistic colour palette that utilizes dark blues, muted greens, and browns.
If you are apprehensive about a bolder kitchen, you don't need to jump in feet-first. You can always introduce a pop of colour in the island or in the backsplash. A two-tone kitchen with white or light grey upper cabinets and a bolder colour on the bottom still utilizes fresh and bold colours without going all out.
4. Accessorizing
Your choice of hardware or lighting also plays a large role in the colour story of your kitchen. There are a variety of appliance or utensil materials to choose from, such as glass, copper, stainless steel, and wood. If you have a nautical theme using navy blues and whites in your kitchen, stainless steel appliances and utensils might be the better choice. This also applies to hardware and other accessories such as cabinet door handles. Your countertops and island surface are also important. Dark wood surfaces will look absolutely stunning with dark olive green walls or cabinets. Lighting fixtures can be given finishes in a variety of colours such as gold, black, or silver, or even a combination of these colours.
There are quite a lot of factors to consider when choosing a colour story for your kitchen, whether it be a traditional or modern kitchen. Make sure you consult with design experts, such as NIMA Kitchens, to make the best decisions for your home. Call us at NIMA Kitchens today to discuss your ideas!