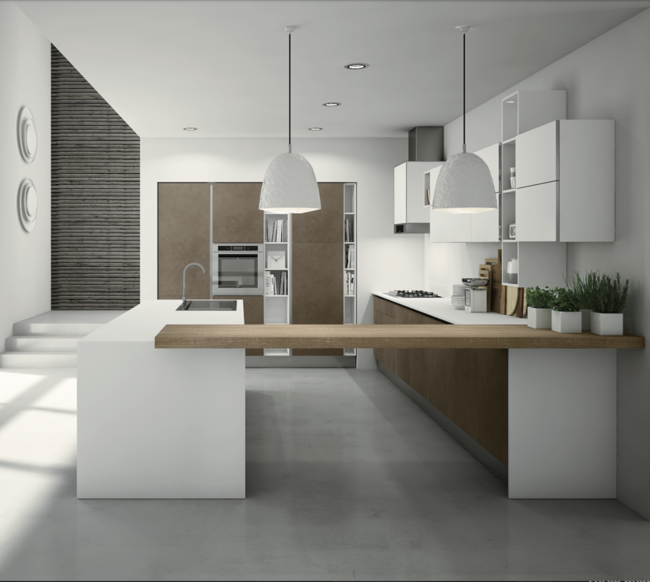 White is a classic colour for any home, but especially for kitchens. The brightness of the colour tends to work wonders for opening up space, but also in introducing a clean, simple, and streamlined look. That said, there are actually many different shades of white. For simplicity's sake, we will be classifying these shades into three main categories: all-white, off-white, and bluish white.
In today's blog, we will be discussing these shades and when best to use them.
All-White
All-white can be described as the purest form of white. For this reason it can sometimes be blinding or stark. Usually, designers will try to avoid ultra-pure whites, but if you are looking for something that stands out, you can make it work with clever design sensibilities. We recommend this type of white for the most simplistic, minimalistic kitchens, working best with more modern or futuristic looking homes that can lean into that aesthetic. In addition, they can also work well with traditional kitchens with a more colonial look, but you will need to be careful with the embellishments on your cabinets so that they properly compliment this colour.
Off-white
Off-white shades are much easier to work with. They can also be referred to as apple or eggshell shades. They tend to be creamier, and are preferred for their ability to warm up a space and work seamlessly with wood-tones or wood furnishings. They look more natural and can be easily paired with other light shades or other shades of white. Rustic kitchens or traditional kitchens work well with this shade of white. Overall, off-whites are versatile and aesthetically pleasing. Consider extending the paint to your ceilings as well to help your kitchen emanate warmth.
Bluish-white
This is one of the rarer forms of white shades. It is often used sparingly, typically to compliment a kitchen that already has a blue theme. However, we also recommend this shade if your kitchen has cabinets that are painted in the black or grey spectrum. You can also invert your colour palette, with your cabinets in the bluish white shade and your walls in the darker blue, grey, or black shades. This is certainly unconventional and will typically work best in modern-looking kitchens as opposed to traditional kitchens.
Ultimately, choosing the right colour for your kitchen comes down to making everything work together seamlessly. Your colours and designs have to complement one another, and the style of your kitchen plays a significant role too. Choosing unconventional shades for traditional kitchens, for instance, may not be the best way to go unless you intend to go for something original and unconventional. Whatever your preferences, make sure to consult with the experts at NIMA Kitchens. We will help with your design process every step of the way.