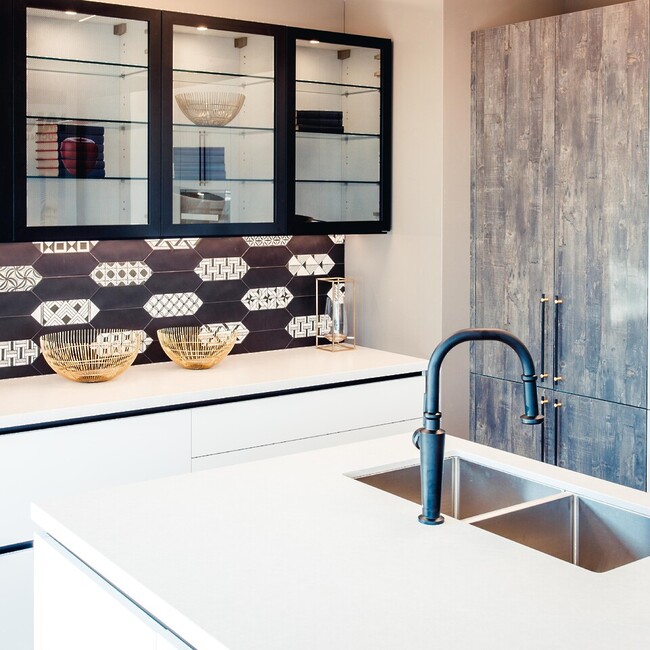 Centuries ago, kitchens used to be hidden in the back of the house. Kitchens were seen only as a place where food was prepared and it was not a place for guests to mingle. However, today, kitchens play a bigger role in the home. In fact, they are now viewed as one of the main focal points of the home where design elements can be showcased. Though kitchens come in various styles, one of the most popular today is the contemporary style kitchen.
There are many staples of contemporary style kitchens, but here are three unique design elements you can use to tie everything together:
Beautiful and Practical Backsplash
Backsplashes are available in plenty of design options. The most recent trends for backsplashes include utilizing larger slabs of stone for a more modern look, or by using tiles that have interesting patterns and textures. You have endless options in terms of colour and pattern, and you can even mix and match to create a more eclectic aesthetic. An effective way to mix and match patterns is to alternate between patterned tiles and tiles with solid colours. You can also alternate between a couple of complementary solid colours.
A Pop of Color
There is no question that white kitchens retain a classic appeal. However, more and more homeowners are now more interested to try coloured cabinetry in their kitchens. The trendiest colours include blues, greens, and other earthy tones, though you can always go bolder. If you prefer a more unusual colour, a good recommendation to keep everything grounded is to opt for the pastel version of that colour.
Mixing and Matching Materials
In addition to playing with colours, you can do the same with materials, especially with metals. Mixing and matching metals can add more character and personality in your kitchen space, provided that it's done right. For example, you can choose a soft gold colour for your lighting fixtures paired with nickel hardware. The same type of combinations can be achieved with granite, marble, wood, and more.
These are just some of the unique ways you can spice up your contemporary style kitchens. At NIMA Kitchens, we help clients source the best materials and cabinetry from global manufacturers, ensuring aesthetic and functional quality. Contact us today to get in touch with a design expert to help you realize your dream kitchen!