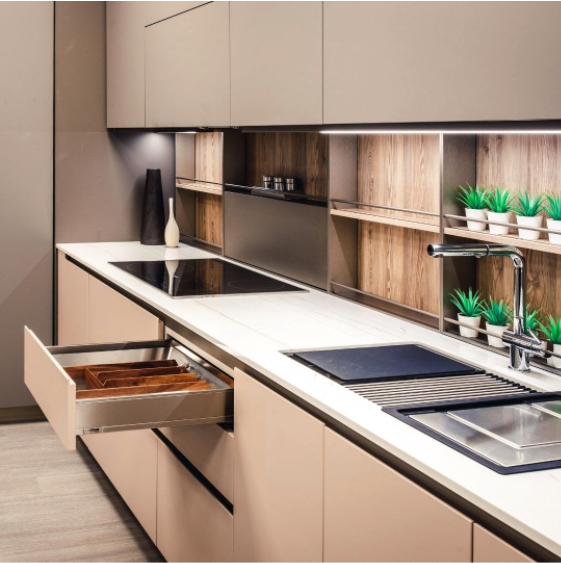 During this time of the year, many homeowners consider reorganizing their custom made kitchens for a fresh start. If you are getting ready to expand or optimize your storage space, things like organizational inserts and dividers as well as additional shelving are the key to maximizing the use of your kitchen space. Here are some tips and tricks to make sure that your kitchen stays organized and clutter-free in 2021.
Inserts and Dividers
Your Italian-made kitchen cabinets by NIMA Kitchen and Bath are spacious and masterfully crafted for storage efficiency. But when you fill your drawers with an assortment of objects in different shapes and sizes, it might be a good idea to add some additional inserts and dividers. NIMA Kitchens can help you optimize your storage space with their custom storage solutions. This will help ensure that everything has its place and will stay nicely organized.
Repurpose Your Island
The benefits of custom made kitchens are that you can design and customize almost anything to your liking. The kitchen island is a great component for extra storage opportunities. There can never be enough storage space in the kitchen, so adding extra shelving on the interior or exterior of the island can easily boost your efficiency in the kitchen. Consult your designers to see whether or not you can add this little trick in your kitchen.
Pantry Storage
The pantry is an important component of the kitchen that can keep everything out of sight, so it's important that your pantry also has optimal storage space as well. Having extra compartments or bins to store your cleaning equipment, spices, and fruits or snacks for the kids will keep your kitchen countertops clear and you will always have a space dedicated for your everyday items.
Keeping custom made kitchens organized is easy with NIMA Kitchen and Bath. They have been working with homeowners, designers, builders, and developers for over 40 years to ensure that all storage space is maximized in every kitchen. Contact us today to learn more.