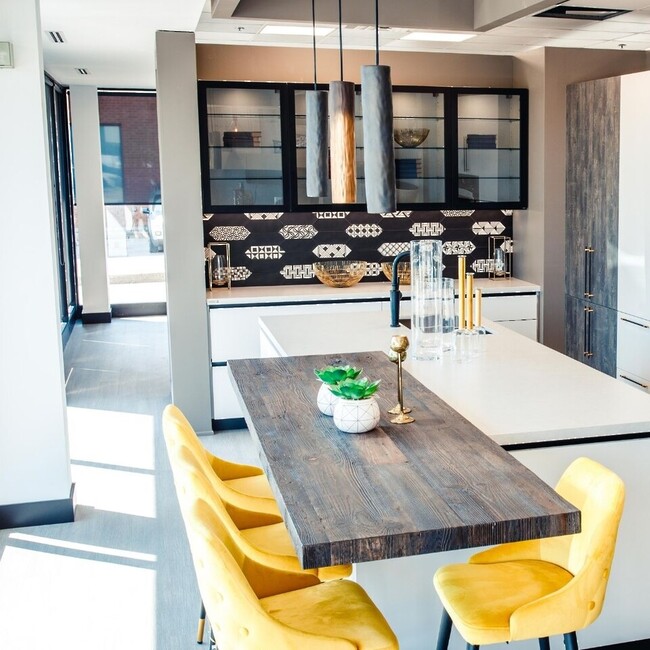 A colourful custom kitchen can add warmth and joy to any home. If you're curious about moving away from traditional white or neutral kitchens, try experimenting with colour here and there in your kitchen to brighten up the space and add some unique personality!
When it comes to colouring a custom kitchen, restraint should be exercised in the name of taste. However, that does not mean you cannot be adventurous in your approach.
With that said, here are some of our tips for adding colour to your custom kitchen.
1. Something bold for the centrepiece.
Kitchens with large islands have a perfect opportunity to benefit from bold colouring. Turn your kitchen island into even more of a centrepiece by giving it a bold facade. If you have a smaller custom kitchen with no island, you can do the same by applying a bold colour to the cabinets instead. Some popular choices that maintain the elegance of more refined designs include deep reds, rich blues, and dark greens. For a chirpier, more vibrant look, consider yellows and oranges. Light pastels complement white kitchens beautifully as well. The options are endless!
2. Find the right balance with seating.
Though not usually considered centrepieces, kitchen seating situated around an island do take up quite a lot of visual space. This is a more economical option for adding colour to your kitchen while ensuring the colouring is significant enough to dramatically change the character of the space. Coloured stools do not necessarily fit with all kinds of custom kitchen designs, so this is an option that is best suited for more contemporary looks. Kitchens that want to exude a fun, family-friendly vibe can benefit from coloured stools or bar chairs. You can even go the extra mile and have the seating be differently-coloured in rainbow tones.
3. Set up a kitchen nook.
Custom kitchens with a large amount of space can have nooks installed. Kitchen nooks are perfect for gathering and relaxation, being the perfect comfortable spot for sipping a coffee while reading a book or enjoying breakfast with the family. Adorn your nook with colourful, patterned cushions and pillows, textured table mats, and gorgeous rugs. Kitchen nooks do not necessarily have to be highly colourful either. For a more luxurious look, settle for one darker but still bold colour. A popular choice for this includes deep reds, maroons, greens and blues.
4. Designer backsplashes provide a subtle dose of colour
Backsplashes have immense design potential, but this is not often explored or capitalized on. Backsplashes give you the opportunity to incorporate exquisite and intricate tilework into your custom kitchen for that extra bit of pizzazz and refinement. You can go the traditional route with mosaics and show off your cultural sensibilities with Turkish-inspired tiles. Alternatively, you can also opt for a more contemporary look by playing with geometric designs and bold tiles. These design motifs can then be repeated in other smaller fixtures such as rugs, table mats, and appliances.
These four tips can help you infuse your custom kitchen with colour in a way that is tasteful yet bold. For more tips and inspiration on designing custom kitchens, follow our blog and check out our website.