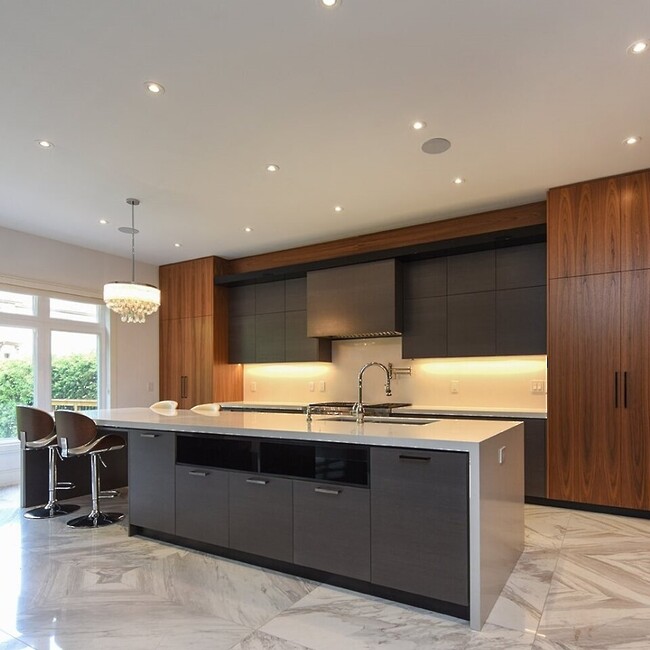 When we think of modern kitchens, we do not necessarily envision many wood elements. However, designers are increasingly exploring the potential of wood, understanding that its naturalistic appeal can perfectly complement modern designs. Indeed, modern wood kitchens are able to exude sleek sensibilities mixed with a connection to nature, the latter of which is an element often missing from today's modern kitchens.
In today's blog, we will be giving you some key tips on how to achieve that perfect modern wood kitchen look:
1. Keep it Natural
The whole appeal of wood is that it can bring a naturalistic look to a space. For the wood elements in your kitchen to really pop, it is better to opt for a design that emphasizes harmony between the materials and plays with the overall theme of blending modernism with a sensibility for nature. Take inspiration from Zen designs and spaces and combine your wood materials with other naturalistic materials, such as stone and glass, to really bind the theme together.
2. Keep it Simple
A modern wood kitchen is not truly modernist if it does not stay true to the principles of minimalism. In line with Zen design, a simplistic approach will do more to allow the elements in your kitchen space to breathe. With wood, trying to make it too complex and intricate can quickly take you out of the territory of modernism and into looks that are preferred in traditional kitchens. Make use of cohesive shapes and sleek lines to emphasize the unity between modernism and naturalism.
3. Know Your Woods
There are many different kinds of wood materials that are used in modern wood kitchens. Teak is a popular choice—originally from Southeast Asia, its distinctive look and texture exude elegance and allow for elegant weathering that keeps it in vogue for decades to come. Oak is another popular wood material. Its rich colour allows it to pair beautifully with darker coloured walls. Contrast from light-coloured countertops, appliances, or furniture will further help the oak stand out.
At NIMA Kitchens, we are excited about the constantly evolving design trends that allow us to flex our creative muscles. If you are looking for a modern wood kitchen, you can count on us to bring you the best designs and installation services.