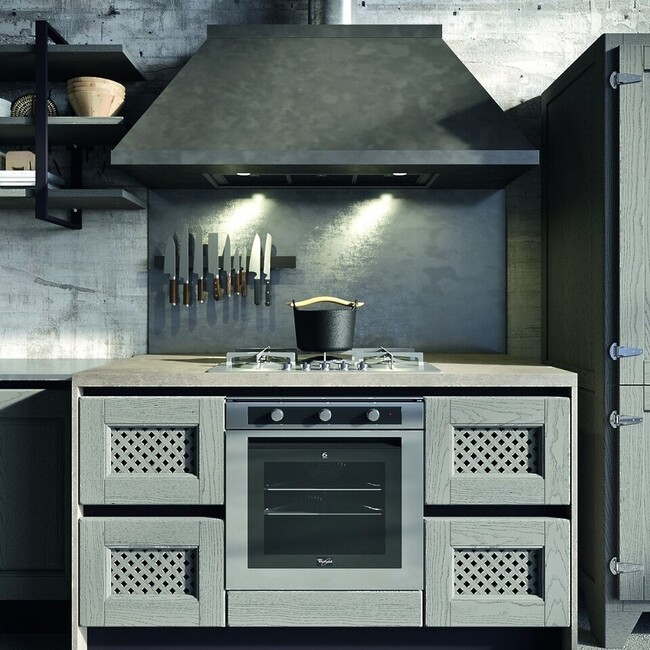 Traditional white kitchens are classic but dark colours such as grey, blue, and even black can add a timeless charm to a room that can't be put into words. The key to setting something apart is in the details, and this holds true for custom kitchen designs too. If you're planning to remodel your kitchen and are on the fence about a dark colour scheme, these tips will provide you with all the inspiration you need.
Here are some ideas to design a stunning dark-themed kitchen.
Go Monochrome

If you are done with bright and summery kitchens and aren't afraid to experiment with more dramatic dark-themed designs, opting for a monochromatic palette could work wonders. You could zero in on a colour that calls out to you, be it grey, dark blue, or emerald green while making sure to use varied textures so that it doesn't look washed out. If you find the monochromatic kitchen a tad cold, art-deco counter stools or chairs can warm it up with elegance.
Blend the Trends

There are no hard and fast rules of design on how you style your kitchen in dark tones, so don't be afraid to mix it up. You could complement the dark cabinets and countertop with slate floors or light hardwood floors. You can also opt for open shelves or glass-fronted cabinetry to add a tasteful personal touch by displaying your favourite glassware or cookbook collection in this space. Don't shy away from layering different trends to design the kitchen of your dreams.
Texture It Up

Using different textures can make quite a statement. For example, you could team matte-finish cabinets with a glazed countertop, add an accent wall, or tile a whole wall with glossy tiles. Choosing to go with darker hues does not mean building a dark cave. You can model your custom kitchen in dual tones and pair it with lighter colours to create a dark but rich ambience. Mixing it up a little with other contrasting features such as gold cabinet handles or brass hardware would add the touch of perfection to your cooking space. Swapping the boring old floors with patterned ones could offer the much-needed tonal and textural variation to the space.
Find The Balance

There's a fine line that defines if your kitchen looks bold yet sophisticated. While homes with lots of natural lighting can perfectly incorporate a dark coloured kitchen, smaller ones too can be optimized for darker hues. The art lies in finding the balance. For a small kitchen, you can use a multi-tonal palette and open shelves to create a light and airy space. Dark walls and light cabinets, or dark cabinets and light counters can be helpful in either toning down a brightly-lit kitchen or brightening up a smaller one to make it look more spacious. It's all about the strategic use of light and a good kitchen remodelling company can help you with that.
If you want to design a modern or traditional kitchen that's striking and dramatic, going with darker hues seems like a good choice. Make sure that you work with trusted professionals such as NIMA Kitchen and Bath to ensure that the execution of your idea exceeds expectations. Book a consult with our experts who can help build your dream kitchen.