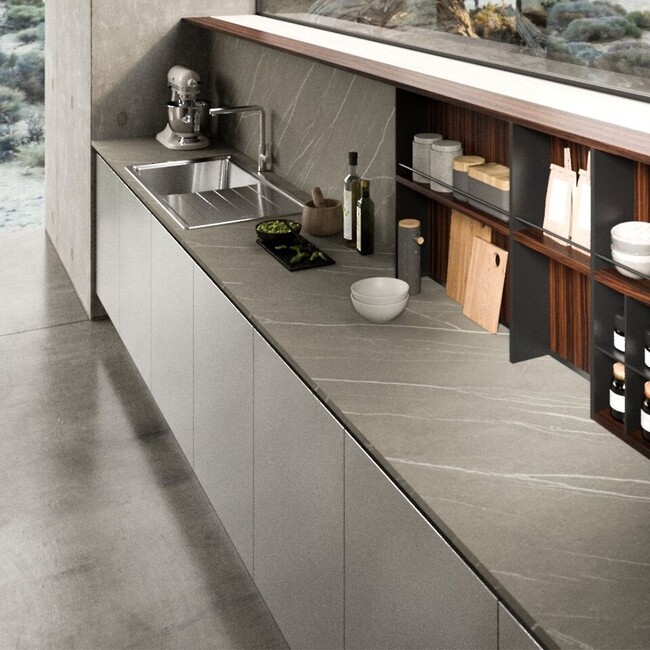 Kitchens come in all sizes, designs and layouts. While open-plan custom kitchens are certainly appealing, cozy, compact kitchen space is equally endearing. A galley kitchen is a perfect example of the latter. If designed well, it looks luxurious and personalized, without spending a fortune. Follow these 6 design tips to learn how you can get the most out of your galley kitchen.
Ways To Optimize A Galley Kitchen
Let Marbles Do The Trick
The compact space gives you the option of splurging on luxurious materials. Go for sleek marbles for your countertops, backsplash and even the range hood for maximum impact. Stick to white or pastel-hued marbles for a Scandinavian touch, or use darker colours to add drama. Lacquered cabinets will go perfectly with this design, making the marble elements the prime focus.
Add Vibrancy With A Rug
Add some personality to your galley kitchen with a runner rug. This low-cost investment with a vibrant pattern can visually tie the whole space together. It also acts as a focal point when seen from the corridor.
Let In Some Natural Light With Windows
Most galley kitchens suffer from a lack of natural light. Solve this issue by swapping out cabinets or shelves over the sink with windows. Allow sunlight to enter the space and naturally create an effortless, breezy vibe.
Use Wallpaper As A Focal Point
Who says the focal point of your kitchen has to be central? Make a unique style statement with vibrant wallpaper on the far wall. Use it as an accent piece to your pastel-hued kitchen and reflect your style.
Go Minimalistic To Maximise Space
Let minimalism work its charm on your compact space. Opt for clear lines, integrated appliances and white or lighter hues to make the kitchen appear more spacious. Remember to keep the countertops clutter-free to maximize the illusion.
Prioritise Efficiency With A Butcher Block Countertop
Food prep is challenging in the tight space of a galley kitchen. Make your life easier by installing butcher block countertops next to the stove. Simplify cutting and slicing food without damaging your knives or the countertop, as butcher blocks are designed for such applications.
For more tips on optimizing the layout of a compact kitchen, reach out to us at Nima Kitchen & Bath today. A major kitchen and bath manufacturer based out of Toronto, our expert professionals will help you fashion the kitchen of your dreams.