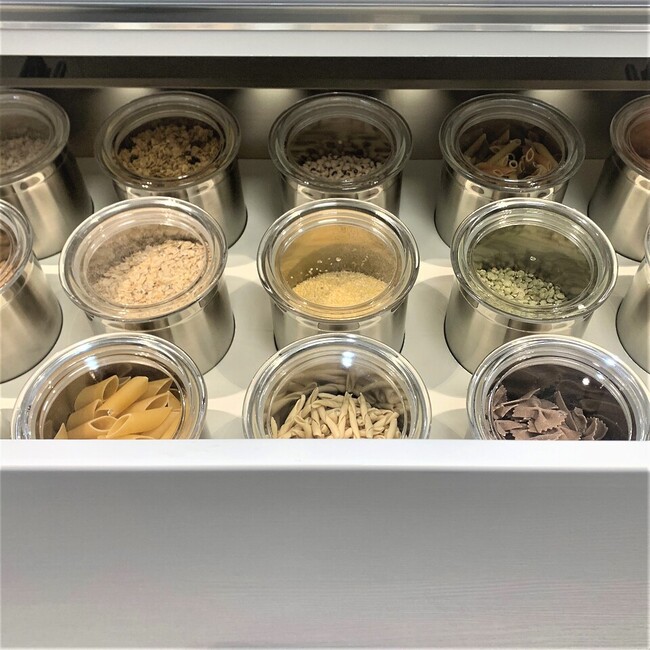 With all the extra time being spent at home these days, one of the most important things to ensure is that you have a home that you enjoy being in. Here at Nima Kitchen & Bath, we focus on creating living spaces that are both aesthetically pleasing as well as practical.
Good quality kitchens will always have high-quality cabinetry that can be organized and will allow you to make full use of storage space whilst simultaneously creating a beautiful area to gather with friends and family. With our custom-made cabinetry, you have full autonomy to create an organized space.
Here are our top two organizational tips to maintaining good quality kitchens:
Containers and Jars
You can order some containers or jars online which will help with segregating the different things in your kitchen. You can also take the spices out of their original packaging and put them into clear aesthetically pleasing jars to not only minimize the amount of junk in your cabinets but to also ensure you can see the current amount of spices you have left and whether it's time to replace them!
Labels
Now that you have all your containers and jars, you should make sure everything is easily accessible. You can use a label maker so that you can quickly determine what each container holds. Everything from pasta, condiments, and grains should have a designated space in your kitchen. This process will help you save time and space and will also create a cabinet that is way more pleasing to the eye. After all, custom made good quality kitchens should always be clean and organized.
Here at Nima Kitchen & Bath, we provide high-quality cabinetry and really want our customers to get the most out of them. We also do custom projects and can help you with your vanities and laundry rooms as well! Give us a call at 416-677-8910 and one of our representatives will be happy to assist you.