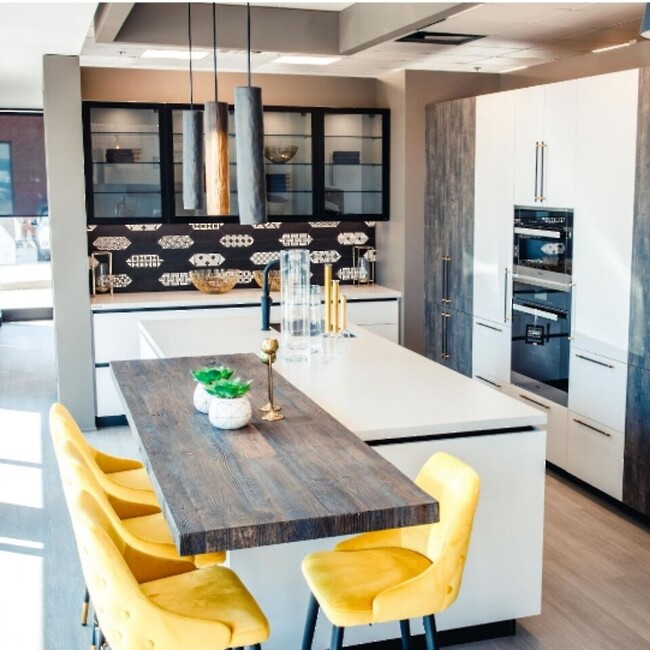 Interior decor is ever-evolving, influenced by the latest trends and sensibilities, especially when it comes to contemporary kitchens and baths.
If you are a contemporary kitchen connoisseur and are on the lookout for some chic ideas to revamp your kitchen space, there are plenty of design schemes to choose from. For instance, you can renovate the cabinets and pantry, or perhaps upgrade your appliances. However, for an impressive, voguish vibe, you must consider a kitchen island overhaul. To help you in this endeavor, here are 5 unique island designs to spruce up your kitchen space.
Trendy and unique kitchen island designs
Achieve Seamlessness With Waterfall Edge Islands
Add a dash of contrast and elegance to your kitchen with a waterfall edge countertop for your island. To further accentuate the seamless quality, opt for veined marble countertops, preferably with a continuous vein that flows down to the floor. Use a contrasting colour scheme with respect to the flooring for the best ambient effect.
Use Dual Materials To Reflect Character
In case you are installing a large kitchen island, it might require two slabs of stone, quartz or any other material of your choosing. Joints are a regular feature of such islands and to disguise them effectively, it's best to add distinct elements to the countertop. For example, you can use light timber elements in the form of a chopping block or a breakfast bar. Create an intriguing visual contrast with a dark-hued island to reduce the emphasis on the joints.
Get Creative With Storage Space
Storage space in a kitchen is always coveted. Hence, repurposing the island to create some extra room is always a fantastic option. Add a mix of cabinets and drawers to create some space for precious cookware and cutlery. Alternatively, opt for deep drawers instead of cabinets for a sleeker vibe. Lastly, get creative with the island storage and use it to reflect your personality. A great example is open shelving where you can showcase your prized possessions. You can even install a wine cabinet beneath the countertop for the wine lovers.
Enliven Your Kitchen Space With L-Shaped Breakfast Bar
The L-shaped layout is fairly common in kitchens and cabinets. Take inspiration from this design scheme and transform your island into an L-shaped breakfast bar. With this particular feature, you will double your island seating and add some artistic zing to the space. Entertain more guests in your sleek designer kitchen by pairing this setup with a statement light fixture.
Highlight Bold Textures With Tiles
Tiles are a great choice for not only backsplashes but for kitchen countertops as well. You can create a unique, textured effect on your countertop with tiles. To add more contrast to the space, opt for a darker colour scheme which goes along exceptionally well with white cabinets to create a monochromatic vibe. Don't hesitate to go bold with tile countertops to reflect refinement as well as your creative flair.
To install custom kitchens or any other features for your kitchen, call the experts at NIMA Kitchen and Bath today.