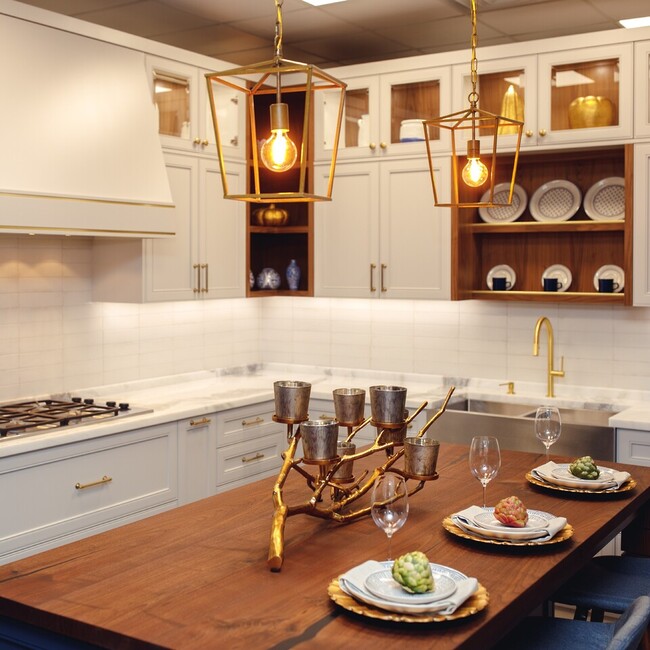 Kitchen showrooms are frequented by homeowners looking to get inspiration for their kitchen remodel or design. A good kitchen showroom should be able to showcase to you all the main elements you need to consider for your kitchen. However, it can get overwhelming hopping from one kitchen to the next without knowing what you should be looking out for.
In today's blog, we will be discussing the main elements to look out for when you visit a kitchen showroom:
1. Types of Cabinets
Cabinets come in all sorts of designs, but the best way to appreciate these design differences is to actually see them in action in a full kitchen. Cabinets are one of the main focal points of a kitchen, but they still need to work well with the rest of the design. By visiting a showroom, you can get a better idea of how to pair both traditional and modern style cabinets with other elements in a kitchen. Furthermore, you should pay attention to the different kinds of finishes, materials, textures, colours, and even patterns used in these cabinets. Take note of all the small details as well, such as hardware, as all these elements factor into the overall look of your kitchen.
2. Appliances
When it comes to appliances, it is not just about aesthetics. Certainly, having an idea of the kind of design you want for your appliances is important. However, considering the wide variety of different appliances with different technological capabilities available these days, it is best for you to be able to see them in person. There will be a lot of new features in modern appliances that you can check out, helping you determine the kind of functionality you require in your kitchen.
3. Lighting
A good kitchen showroom will make sure to show you different kinds of lighting styles for each kitchen. Take note of all the creative ways that lighting is used—a popular trend nowadays is to hide lighting fixtures, by having them installed under or over certain ledges, frames, or surfaces. This is most commonly found in modern kitchens. Make sure to ask the attending sales representative about green lighting solutions too, as they can help you save on bills.
4. Overall Kitchen Layout
Typically, the most difficult part of a kitchen design for any homeowner to decide on is the overall layout. It can be pretty clear early on what kind of look or aesthetic you want to go for, but when it comes to arranging everything in an efficient manner, the experts have to be consulted. Kitchen showrooms will show you different kinds of layouts to choose from, with each style catering to a specific type of functionality or preference depending on the many different ways individuals may use kitchens. Talk to the sales representative and they will show you different options that could work with the size of your kitchen, and they will also accommodate any of your preferences.
These are all important considerations for when you visit a kitchen showroom, though this is a simplified list meant to guide you and designing a kitchen involves a lot more factors. This is why it is important to make sure you consult with an expert. At Nima Kitchen and Bath, our kitchen showrooms cater to a wide variety of styles and sizes, and our consultants are always ready to walk you through your options. Call us today to learn more about what we can do for you!